How to Whitelist SparkChess in Microsoft Defender Smartscreen
Microsoft Windows Defender is the default antivirus that ships with newer versions of Windows. It's not that smart, and whenever the SparkChess installer is updated, it complains saying that the file is not commonly downloaded (well, duh, it's new!)
To make it clear, SparkChess does not contain anything that could harm your computer. You're welcome to submit the SparkChess installer to VirusTotal online scanning service or to any other A/V company.
Here's what to do if SparkChess is blocked by Smartscreen:
If the download is blocked by the Edge browser
When the download is complete, Edge might show a warning message like this: "sparkchess15setup.exe was blocked because it could harm your device." If you mouse over the text, on the right you'll see a "More" menu with 3 vertical dots. Click on it and a context menu will show, like below:
Choose "Keep".
A new warning will pop up:
Again, choose "Keep anyway".
At this stage the download will be available. If you're still unsure, feel free to scan the installer with your favorite antivirus or submit it to Virus Total for analysis.
If the installation is blocked by Smartscreen
When you try to install SparkChess, the installation might be blocked by Microsoft Defender Smartscreen: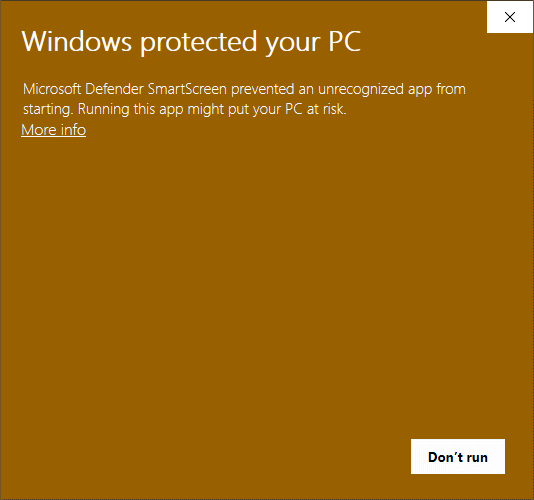 Click on "More info" link just before the text, and the popup will change: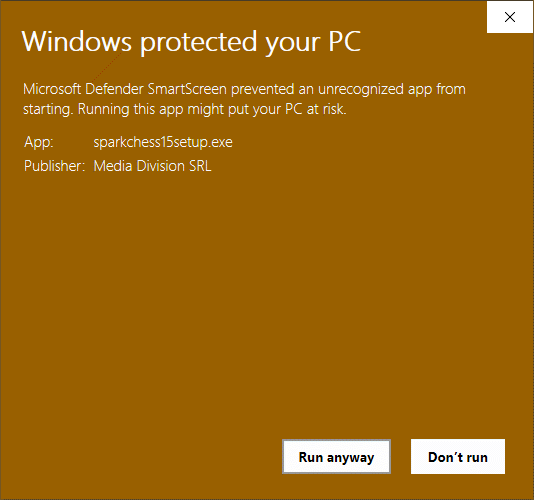 Now you can click on the "Run anyway" button and the installation will start.
If you are still unsure about the best course of action, please contact us! We can replace the Windows version with a SparkChess Premium Live subscription that runs in your browser with zero hassles.