Upgrade SparkChess
SparkChess 17 is the latest available version
To upgrade your SparkChess, please provide us with the Transaction ID that you received when you purchased SparkChess from our website. In case you have misplaced the Transaction ID, you can retrieve it and have it sent to your registered email address.
Please note that this page is exclusively meant for upgrading SparkChess purchased through our website. If you have purchased SparkChess from a different store such as Mac Store, Windows Store, Steam, etc., you must check there for upgrade options.
If you haven't yet purchased SparkChess, kindly proceed to the Download page to explore all the available platforms and payment methods.
.
What's new in SparkChess 17
AI Fine-tuning
Our team has spent months perfecting the AI engine, using the latest Machine Learning techniques to create a faster and more complex play with more human-like openings. You'll notice that Claire plays more casually, too.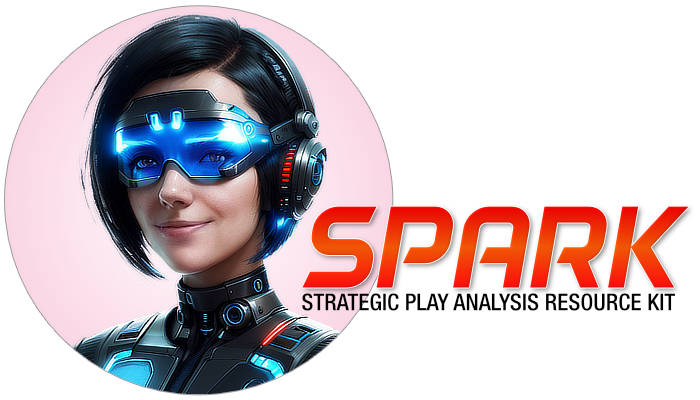 We put in a lot of effort to make this happen! First, we had to do a lot of research and build a whole framework for internal use, based on genetic algorithms. Then we tested tens of thousands of generations of AI engines on it. We affectionately call this platform SPARK: Strategic Play Analysis Resource Kit.
Improved Opening Explorer
We doubled the size of the available openings and their variants, while still keeping focus on the most popular ones. All AI opponents will use the openings according to their abilities, resulting in a more natural and human-play. Coupled with the lessons on openings, you can build a really solid foundation!
More fun with puzzles
Challenge yourself and earn points by solving chess puzzles. Keep track of your progress and be rewarded every time you solve one.
New lessons and famous games
Expand your knowledge with our new chess lessons, which are written by chess masters specifically for SparkChess.
Discover the fascinating history of chess with our collection of famous historical games, complete with comments and insights to help you improve your skills.
Better multiplayer experience
We have made significant improvements to our multiplayer feature to ensure service reliability. As we retire the old versions and roll out the new one to desktop and mobile, out-of-sync games will become a thing of the past. The whole multiplayer experience is now faster and smoother.
And more!
As always, there is a ton of improvement, many of them "under the hood", such as an improved user interface, multiplayer autologin, better keyboard navigation and much more.
We hope you'll enjoy playing SparkChess as much as we enjoyed building it! Your support for 14 years enables us to keep the development active.
---
Features introduced in previous versions:
SparkChess 16 (2022)
Multiplayer overhaul.
3D Board improvements.
Move list interactivity.
New privacy and security features.
Identicons.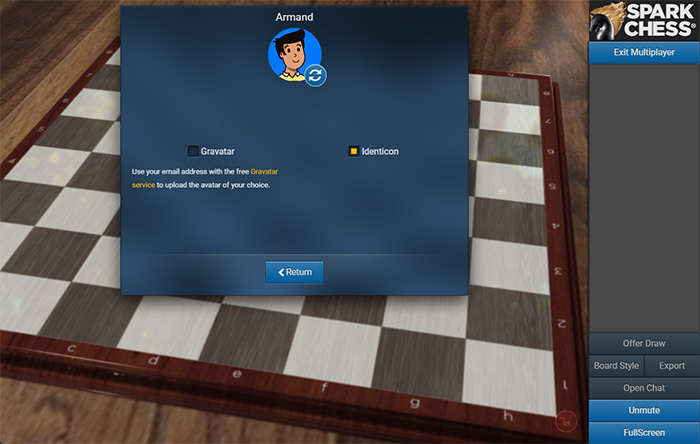 SparkChess 15 (2021)
Online endgame tablebase.
Openings explorer.
Board snapshot.
3D improvements.
Localization in 7 languages.
SparkChess 14 (2020)
Alyx – customizable AI.
Local multiplayer.
AI Engine improvements.
Lessons: Famous historical chess games.
Teams Time Controls.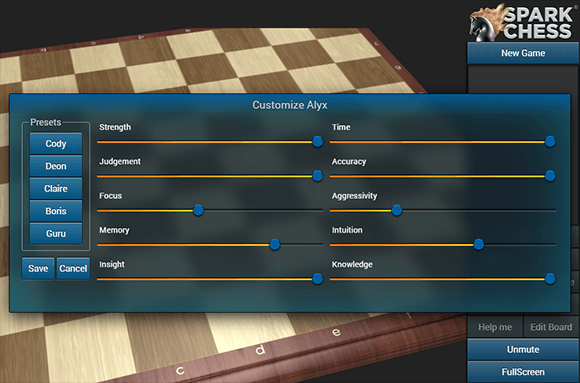 SparkChess 12 (2019)
Coach mode explains – in plain language – why a move was good or not.
Fully-3D fantasy chess set.
Create and manage teams.
More lessons and puzzles
SparkChess 11 (2018)
Cloud-synced History.
Multiplayer games statistics.
Redesigned chat experience.
Report & Block abusive players.
Improved multiplayer connection reliability.
Flip board.
SparkChess 10 (2017)
New AI engine with dramatically improved speed and strength.
Real 3D board that can be rotated, zoomed and panned.
Observer multiplayer mode.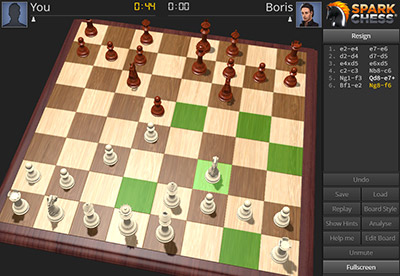 SparkChess 9 (2016)
Completely rewritten, using more modern language and tools.
4x AI speed improvement.
Redesigned interface.
Fullscreen mode.
Improved PGN import.
SparkChess 8 (2015)
4x Improvement on opening database for more varied play.
50% faster engine.
Sound support.
15 new chess lessons.
Separate multiplayer play areas with support for advanced time control.
New scoring mode.
SparkChess 7 (2014)
New UI
New single-player difficulty level
Import/Export PGN files
Opponent filtering in multiplayer
Improved board analysis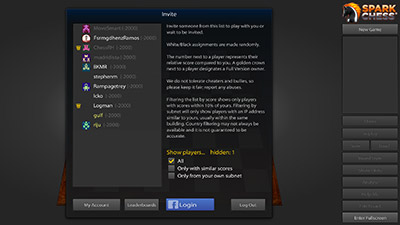 SparkChess 6 (2012)
HD graphics for the board.
Fantasy chess set.
Facebook integration.
Multiplayer enhancements.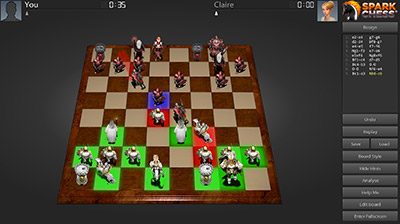 SparkChess 5 (2011)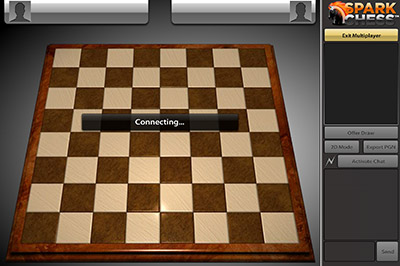 SparkChess 4 (2010)
Renamed from flashCHESS to SparkChess to avoid trademark issues.
Character-based difficulty levels.
Interface redesign.
Board redesign for improved contrast.
Added replay mode.
Multi Language feature.
FlashCHESS 3 (2008)
Completely new online app.
3D board design.
new, faster chess engine that observes all chess rules.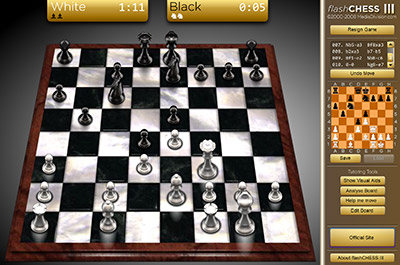 flashChess 1 & 2 (2002)
The very first online chess game.