Upgrade SparkChess
SparkChess 16 is the latest available version
To upgrade your product, please enter the Transaction ID you were given when you purchased SparkChess from our website. If you don't have the Transaction ID, you can recover it and have it sent to your email address.
This page is only for purchases made through this site. If you purchased SparkChess through a different store (Mac Store, Windows Store, Steam, etc.), you must check there for upgrading.
If you don't own SparkChess yet, please go to the Download page to see all platforms and payment methods.
.
What's new in SparkChess 16
Multiplayer overhaul
With this release, we completely rebuilt the whole multiplayer server. Even though now it has the same functionality, behind the scenes it's a brand new system that is faster, more secure and – most importantly – with a lot of room to grow.
Ever since we introduced multiplayer in SparkChess 5, we've been using a licensed closed-source third-party framework. It proved reliable over the years and we managed to extend its functionality to some extent, but the lack of access to its core meant that we just couldn't implement some features without tedious workarounds.
Over time it became almost impossible to add new features, so we decided to build a new multiplayer service from scratch using an open source platform and design a system to serve our players' needs over the next decade.
The new multiplayer is not compatible with the old one but we are planning a quick transition.
In the next releases we'll greatly expand the new framework with new and exciting features!
Multiplayer users can also group chat while in the Invite area.
3D Board Improvements
The 3D board is better than ever: more responsive, better looking with new antialiasing, better lighting, a brand-new gorgeous environment and – a popular request – new has a "Lock" button to prevent unwanted rotations.
Move List Interactivity
Hovering on a move in the moves list now shows a mini-board with the position at the time and a visualization of the move. This is a great way to quickly go through the past moves. In Replay, clicking on a move in the list will jump to that move so you don't have to repeatedly go through each move to reach the desired position.
New Privacy and Security Features
SparkChess was always focused on privacy and on providing a safe environment for everyone.
This is the reason we decided to remove Facebook integration. Between privacy and convenience, we chose privacy.
Instead of Facebook avatars, you can now generate fun "identicons". These avatars are unique to SparkChess and are safe for children too. You still have the option of using Gravatar to upload your avatar of choice.
Although we only collect the absolute minimum amount of information and we never share it with anyone under any circumstances, you now have the option to delete your multiplayer account.
We also improved the security of your multiplayer account, especially in shared environments.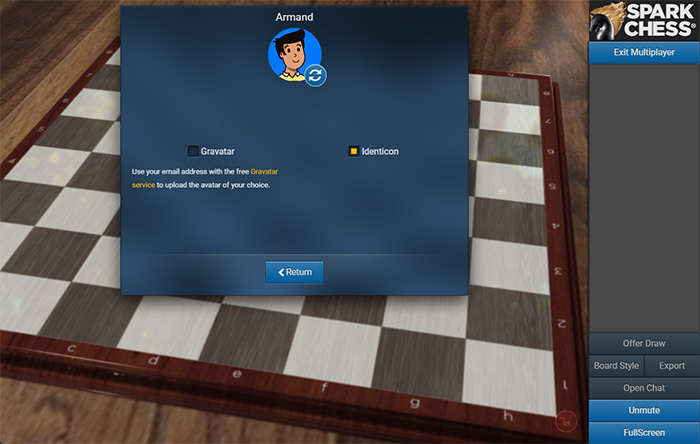 And more!
As always, there is a ton of improvement, many of them "under the hood", such as an improved user interface, multiplayer autologin, better keyboard navigation and much more.
We hope you'll enjoy playing SparkChess as much as we enjoyed building it! Your support for 14 years enables us to keep the development active.
---
Features introduced in previous versions:
SparkChess 15 (2021)
Online endgame tablebase.
Openings explorer.
Board snapshot.
3D improvements.
Localization in 7 languages.
Various improvements.
SparkChess 14 (2020)
Alyx – customizable AI.
Local multiplayer.
AI Engine improvements.
Lessons: Famous historical chess games.
Teams Time Controls.
Interface and board improvements.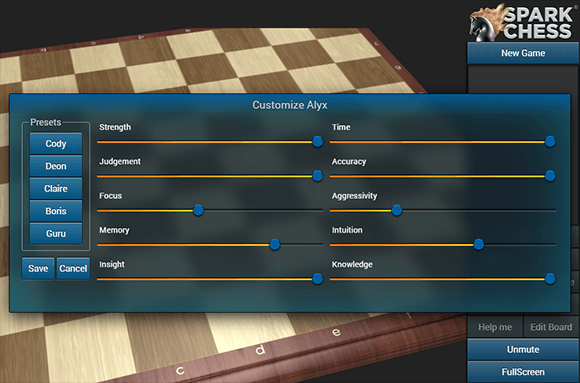 SparkChess 12 (2019)
Coach mode explains – in plain language – why a move was good or not.
Fully-3D fantasy chess set.
Create and manage teams.
More lessons and puzzles
User experience improvements.
SparkChess 11 (2018)
Cloud-synced History.
Multiplayer games statistics.
Redesigned chat experience.
Report & Block abusive players.
Improved multiplayer connection reliability.
Flip board.
User interface improvements.
SparkChess 10 (2017)
New AI engine with dramatically improved speed and strength.
Real 3D board that can be rotated, zoomed and panned.
Observer multiplayer mode.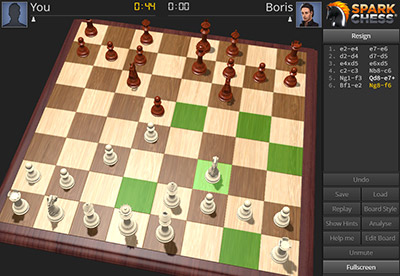 SparkChess 9 (2016)
Completely rewritten, using more modern language and tools.
4x AI speed improvement.
Redesigned interface.
Fullscreen mode.
Improved PGN import.
SparkChess 8 (2015)
4x Improvement on opening database for more varied play.
50% faster engine.
Sound support.
15 new chess lessons.
Separate multiplayer play areas with support for advanced time control.
New scoring mode.
SparkChess 7 (2014)
New UI
New single-player difficulty level
Import/Export PGN files
Opponent filtering in multiplayer
Improved board analysis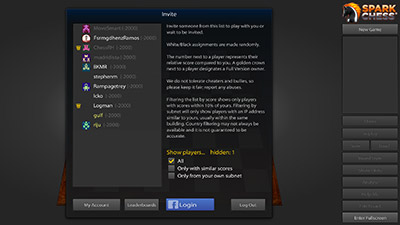 SparkChess 6 (2012)
HD graphics for the board.
Fantasy chess set.
Facebook integration.
Multiplayer enhancements.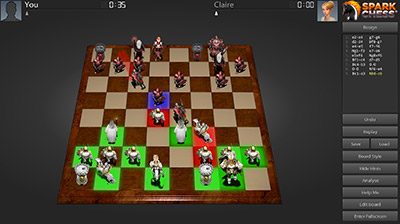 SparkChess 5 (2011)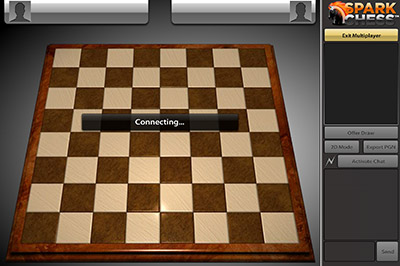 SparkChess 4 (2010)
Renamed from flashCHESS to SparkChess to avoid trademark issues.
Character-based difficulty levels.
Interface redesign.
Board redesign for improved contrast.
Added replay mode.
Multi Language feature.
FlashCHESS 3 (2008)
Completely new online app.
3D board design.
new, faster chess engine that observes all chess rules.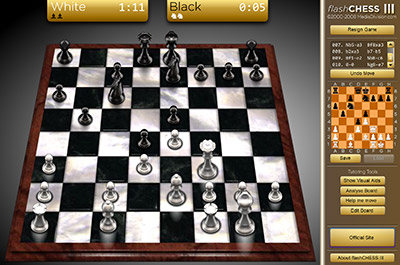 flashChess 1 & 2 (2002)
The very first online chess game.