Have you ever wondered just how many chess players are in the world? How many of them are women? And what's with all the titles like chess master and international master? Who is the top chess player ever?
The answers to all these questions are in the infographic below: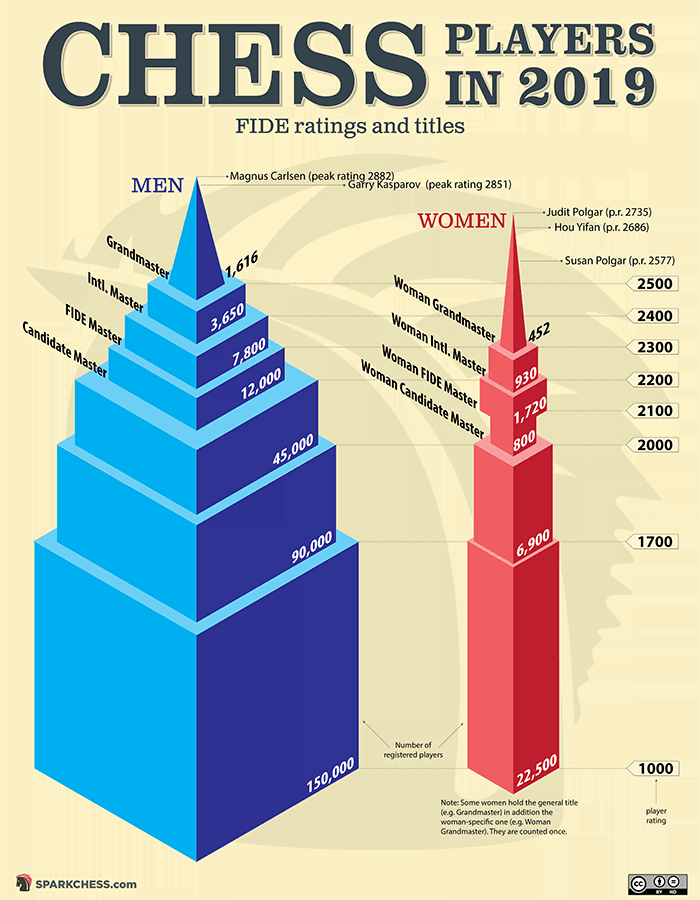 This infographic is released under a Creative Commons License / BY-ND, which means please feel free to redistribute it as long as you link back to sparkchess.com and you don't alter it. You can download a high-res, print ready PDF version:
What are the chess titles?
While we can't know for sure just how many chess players are in the world, we know how many registered chess players there are with FIDE. FIDE stands for Fédération Internationale des Échecs or the World Chess Federation.
FIDE uses these titles:
Candidate Master
FIDE Master
International Master
Grandmaster
National Master is not a FIDE title, so it's not included here.
Titles are awarded to players based on complex rules, but the most important is their rating. A 2200 rating is required for a Candidate Master, 2300 for FIDE Master and so on. Titles are for life.
There are separate titles for women – Woman Candidate Master, Woman FIDE Master, Woman International Master and Woman Grandmaster. The rating requirement for each title is 200 points lower than than the general counterpart. Some women hold the general title as well – and in some cases both!
How the rating is calculated
All chess players have a "rating," also known as Elo rating, from Arpad Elo, the Hungarian inventor of the rating system.
The rating is an indicator of skill. When a rated chess player beats another one, they take some points from the losing one. The difference between their rating determines how many points are awarded. A higher-rated player who defeats a lower-rated one will be awarded only a few points. However, if the lower-rated player defeats the higher-rated one, they'll be awarded much more.
Given enough games, the system allows the good players to rank higher.