Chess (the musical) has a mixed history. While its songs One Night in Bangkok and I Know Him So Well were pop hits, Chess has struggled critically and commercially for over three decades. Varying from the original West End production, other productions have featured different songs, dialogue, and plots but with little success.
Success for Chess came at The St. Louis Municipal Opera (the MUNY) from July 5-11, 2023. The MUNY's production lights a path forward for this beloved but flawed musical. The Saint Louis Chess Club and the World Chess Hall of Fame partnered with the MUNY to offer the finest theater-going experience that I have ever had.
For the chess player at the MUNY's production, the joys of Chess began even before the show started. Employees of the Saint Louis Chess Club and the World Chess Hall of Fame staffed tables where theatergoers played chess and received promotional chess items. Many attendees were playing chess for the first time, as I found out when I taught some of those beginners the two-rook checkmate. The employees also conducted chess trivia contests and handed out prizes.
Act One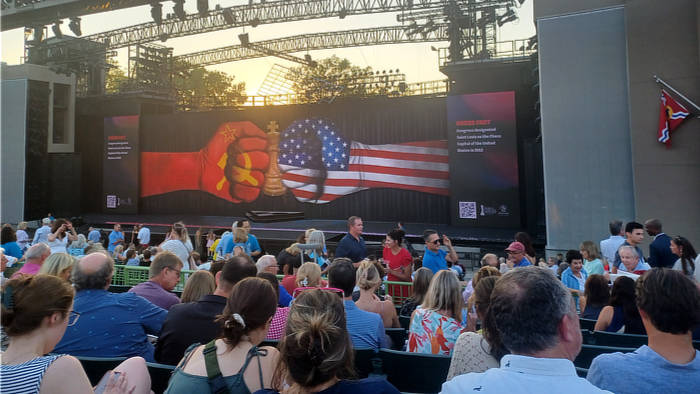 During Act One, John Riddle (Anatoly Sergievsky/The Russian) and Jarrod Spector (Frederick Trumper/The American) reenacted the first game of the 1972 World Chess Championship match, having memorized its moves. The use of a real World Chess Championship game to illustrate a fictional World Chess Championship match was exemplary. Thanks to the game being broadcast on big screens, with closeups of the players' faces, hands, and moves, it was easy for the audience to follow this classic game. The actors only showed the opening, so the following position asks what White should do on move 15.
One change from the West End production is that Sergievsky and Trumper are scanned with wands to determine if they are hiding cheating devices. Showing these security measures, which are common in the modern era of cheating accusations, was a nice nod to recent events.
Act Two
In Act Two, Sergievsky and Trumper get into a fight during their chess game. Later, their fight is repeatedly referred to as "boxing." The allusion to the surge in popularity of chessboxing, mostly due to Ludwig's Mogul Moves Chessboxing Championship, showed that this MUNY production engaged with current events, even while it retained a 1980s setting.
When Sergievsky boards a plane to go back to the USSR, his gate number is 64. Of course, 64 is the number of squares on a chess board. Such a detail makes Chess at the MUNY a delight for fans of the game.
Curtain Call
The ensemble of Chess at the MUNY was fantastic. The size and coordination of the ensemble added immeasurably to all the numbers that featured them, such as Nobody's Side. One Night in Bangkok was also a standout ensemble number featuring many talented dancers such as Kristen Faith Oei.
Taylor Louderman accomplishes the difficult task of portraying the character arc of Svetlana Sergievskaya within the confines of a single act. She brings an impressive melancholy to the role. Her ability to understand her role as a foil to Florence is clear in her deliberate acting, singing, and blocking.
John Riddle should be considered for every romantic lead role in musical theater. I witnessed his ability to sell compelling romance when, in 2017, he portrayed Tony in Casa Mañana's version of West Side Story. He has only improved since. His chemistry with any actress who shares the stage with him makes for credible romantic scenes.
Jarrod Spector is the best rock tenor working in musical theater today. Any production of Children of Eden would benefit from hiring him as Cain. When he entered the theater through the crowd, during Merano, Chess at the MUNY became electrifying. His interpretation of Trumper as a view-seeking showman revealed a keen understanding of how chess streamers act in front of cameras. Spector's performance presents a compelling vision of how chess events could go if Ludwig became a very selfish person.
Jessica Vosk's portrayal of Florence shows she should be considered an actress of comparable talent to Elaine Paige and Judy Kuhn (who originated the role of Florence in the West End and Broadway productions, respectively). Vosk delivers several heartfelt songs throughout the show, including an amazing version of Nobody's Side. Few eyes were dry when she closed the show with reprises of Heaven Help My Heart and Anthem.
Much of the credit for solving Chess must go to Josh Rhodes. His impressive directing and choreography allow everything to work wonderfully in the show. Before I saw Chess at the MUNY, the best musical theater production I had ever seen was Jesus Christ Superstar in 2016 at Casa Mañana (also directed by Josh Rhodes). He has now surpassed his previous work. For any regional theater with a unique space seeking to do rock musicals, there is no better director to hire.
About the players