Do you prefer to calculate concrete lines, or do you make your decisions more intuitively? Do you have a good sense of harmony and coordination? The Human Factor in Chess – The Testbook helps you discover your Player Type through tasks and exercises.
The four Player Types are Activist, Theorist, Reflector, and Pragmatic. According to The Human Factor in Chess – The Testbook, knowing your Player Type allows you "to draw conclusions in order to further expand the individual strengths or to develop a more universal playing style overall."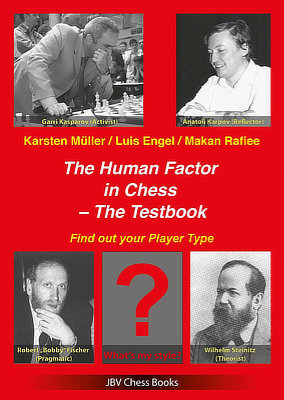 Grandmaster (GM) Karsten Müller, GM Luis Engel, and FIDE Master Makan Rafiee are the authors of The Human Factor in Chess – The Testbook, subtitled "Find out your Player Type." Published in 2023 by JBV Books, it is a follow-up volume to 2020's The Human Factor in Chess, subtitled "4 types of players with their strengths and weaknesses." GM Vincent Keymer wrote the forewords to both the 2020 and 2023 volumes.
Chess Problems
While I found excerpts from Keymer's 2020 foreword online, I could not find sample pages online from the 2023 volume. Publisher JBV Books mailed a review copy of The Human Factor in Chess – The Testbook to me. So, I can excerpt the first two chess problems from the first chapter about Activists.
Answers
For the Müller versus Uhlmann problem, I initially considered 17. c3, using my c-pawn to defend my d-pawn. Then my knight could leave that pawn's defense and attack Black's king. But then I found 17. Bxg6 because I was influenced by the problem being in the "Activist" chapter. I figured an active move was expected.
In my opinion, finding "How should White continue?" in the Müller versus Uhlmann problem is harder than deciding, in the Shirov versua Atalik problem, if Nf5 is good or bad. After all, I have a 50% chance to guess correctly regarding the quality of Nf5. Yet designating Nf5 as a good move got me 2 AP (Activist Points) while finding 17. Bxg6 got me 1 AP. I could not find the authors' formula for how points are awarded. Nonetheless, I enjoyed earning points. Also, I learned from the authors' explanations of why the correct answers were superior to other moves.
Where to Order
If you are in Europe, you could order The Human Factor in Chess – The Testbook for 23,00 € from this German website. Or, for £21.95, order the book from the Chess and Bridge: London Chess Centre. In the United States, USCF Sales carries the book for $24.95.
About the players