Want to win a one-year SparkChess Premium Live membership and a one-year Chess4Life Online Premium membership (valued at $99) at online.chess4life.com? In the comments to this article, ask National Master Elliott Neff a question. On May 25, SparkChess writer Alexey Root will select the five best questions from the comments. The commenters who asked the "five best" questions will each win a one-year Premium Live membership to SparkChess. The very best question will win both a one-year Premium Live membership to SparkChess and a one-year Chess4Life Online Premium membership to online.chess4life.com.
In this article, I (Alexey Root) asked Elliott Neff three questions. This article has my questions and Elliott's answers. However, you probably have more questions to ask Elliott, founder of Chess4Life and author of the forthcoming book A Pawn's Journey: Transforming Lives One Move at a Time. Ask your questions in the "comments" area to potentially win membership prizes.
Alexey asks: In my previous article for SparkChess, you taught the king, bishop, and knight versus king checkmate. What endgame checkmates do you teach, and in which order?
Elliott answers: Great question Alexey! As in all coaching, my goal is to ensure that students learn not just important concepts, but concepts in an order that will help them avoid bad habits, understand other key concepts, and build a foundation to allow the students to go as far as they wish in chess. With this in mind, I usually teach the basic checkmates in this order:
Queen and rook vs. king
Two rooks vs. king
King and queen vs. king
King and rook vs. king
King and two bishops vs. king
Then I teach two king and pawn versus king endgames, one where the pawn promotes with the help of a well-placed king and the other where the defender draws using stalemate. After those king and pawn endgames and the king, bishop, and knight versus king checkmate, I continue with endgames in the order listed below:
Three-pawn and four-pawn breakthrough key positions
Philidor's defense for rook and king drawing vs. king, rook, and pawn, also taught in this SparkChess article.
Lucena position for king, rook, and pawn winning vs. king and rook, also taught in this SparkChess article.
King and queen vs. king and rook.
For the endgame checkmates and positions listed, I first show students the final position (such as the checkmate or stalemate) so they know the goal. Then I back up the position move by move to a more challenging start position, such as when the defending king is in the center rather than on an edge. As I show typical series of moves from the start to the end, I share simple-to-understand principles, ensuring that students grasp exactly what to do and the reasons behind moves. My students do NOT just memorize moves.
Alexey asks: How are you and Chess4Life involved with the real-life chess players portrayed in the book and film Queen of Katwe?
Elliott answers: I first heard about the Queen of Katwe book in 2013, and hosted a fundraiser chess tournament for Robert Katende, Phiona Mutesi, and the SOM Chess Academy in January of 2014. The tournament winner got to play Phiona in person when they visited the Seattle area. At the time, I had no idea about a potential Disney movie. I was struck by the obstacles that Robert and Phiona had overcome. After meeting them, at Robert's request, I started helping Phiona prepare for the 2014 World Chess Olympiad. At the same time, I also donated a number of resources including Chess4Life curriculum tools to Robert, to help more students in Uganda. We had a series of Skype lessons, including during the Olympiad in 2014, to prepare for Phiona's games. In 2016, I traveled to Uganda to help Phiona prepare for the 2016 Olympiad. While there, I also helped the Ugandan Women's Olympiad team prepare. It was quite a journey walking the streets of Uganda where the movie was filmed, meeting the chess Pioneers, and seeing real life in Uganda.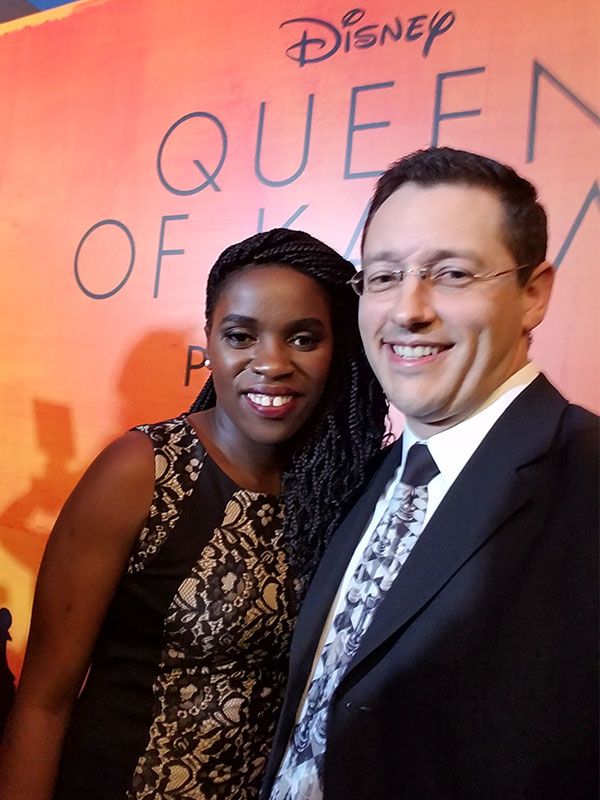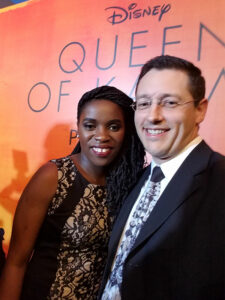 When the movie came out, I attended the red carpet premiere in Hollywood with Robert, Phiona, and others. During this time, I reached out to Dr. Joseph Castleberry, President of Northwest University (NU), who gave a scholarship to Phiona. Phiona and Benjamin Mukumbya (also portrayed in the movie and also given a scholarship to NU) started a NU chess club, then a chess team. The NU team competed in the Pan-Am Intercollegiate Team Chess Championships in December of 2017 and won the small college division! You can read more about my initial involvement with Phiona and Benjamin at the gofundme page linked here.
While their NU scholarships cover their tuition, Phiona and Benjamin still have additional expenses. Please support them through the gofundme page for additional years' expenses such as books, flights back and forth from NU to Uganda, cell phones, etc. Thank you! ?
Alexey asks: Tell me other ways you are involved with chess and chess players.
Elliott answers: These days, I don't play in-person tournaments but I play online. My older three children (ages 7, 6, and 5) play in-person tournaments regularly, as I wrote about in this article.
I'm quite involved with organizers in Washington State putting on the elementary chess championships (regularly over 1200 participants). I started a nonprofit to help fund students who need financial assistance to participate in learning and competing in chess.
Additionally, I serve on the US Chess Federation's Scholastic Council (SC) and just recently was the official SC rep for the 2018 National Elementary Chess Championships in Nashville. I serve in this volunteer role to improve scholastic chess in the United States.
I want to achieve the goal of one million children per week learning life skills through the game of chess. To achieve this goal, Chess4Life partners with schools, districts, and other organizations nationally in order to empower teachers and many others to accomplish this mission. Most recently, Chess4Life introduced 600 of the most-needy preschoolers in our communities to chess, partnering with Head Start in Washington State and funded by the Boeing Company. There is a third-party study underway showing the results of this initiative as we help these preschoolers develop the skills they need to be ready for success in kindergarten and beyond!
I am also the CEO of Chess4Life, a for-profit entity with headquarters in Bellevue, WA (near Seattle). Chess4Life serves thousands of students weekly, and handles the licensing of tools nationally.
The competition is now closed. We thank everyone who participated. Alexey and Elliott will announce the winners very soon! Best of luck!

Update:
Alexey has picked the 5 lucky winners of SparkChess Premium Live subscriptions. They are:
Jilianna Perez
Melissa Rauh
Javier M Lopez
Devanshi Rathi
Akshaya Jain
We have contacted the winners to receive the prizes. The winner of the Chess4Life Online Membership will be announced along with the answers to the 5 questions by Elliott Neff himself.