Thirty-two SparkChess readers had questions for chess coach Elliott Neff. I (Alexey Root) decided that the questions from Jilianna Perez, Melissa Rauh, Javier M. Lopez (aka Marty L.), Devanshi Rathi, and Akshaya Jain were the best ones. All five readers received one-year Premium Live SparkChess memberships. Read on to find out which of the five also won a one-year Chess4Life Online Premium membership (valued at $99) at online.chess4life.com and for Elliott Neff's answers to the questions.
Jilianna Perez asked: How did you make chess appealing to 13 year olds like me? There are other games that I could play like RPG games or shooter games or the famous .io games. When did you learn how to play chess and why did you learn? Were you always interested or did your interest just spark at a random age?
Elliott answered: Hi Jilianna. Let me ask you questions in return: What are you looking for in a game? Do you want to just be entertained? How about if I said that you could learn a game that is NOT dependent on chance or simply reaction. Instead, this game helps build your capability to think better. Moreover, it will help you create the habits that can help you improve in school. And this game, chess, is played all over the world. If you only want entertainment, many other games will do. If you want to actually improve, be satisfied with your improvement, and be thinking ahead to outcomes down the road, then I think you will very much enjoy playing and improving at chess.
This game helps build your capability to think better. Moreover, it will help you create the habits that can help you improve in school.
I learned some chess moves from my dad when I was probably around four years old, though I didn't know all the moves until later. For example, I didn't know the en passant rule even when I played my first tournament at eight years old. I enjoyed playing chess with my dad and siblings as well as with my Uncle John. We just played chess casually and occasionally. I thought chess was fun and I enjoyed a few other board games as well.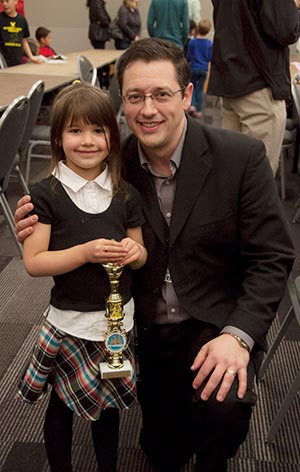 My real interest in improving in chess was sparked when I played that first tournament. I won a few games and looked forward to winning more. I realized that to succeed in chess I didn't need to be the fastest or the tallest, like in sports. Chess was something that if I worked at, I just maybe could become the 'best' in my circle – and I wanted to be good at something, to achieve something. I think that desire to achieve is what gave me the first interest. Later on, as I progressed, my goals expanded also, leading to setting goals of being a master, high school state champion, state junior champion, etc. I ended up achieving many of my chess goals. More important, my chess journey has GREATLY helped me in life overall, as the skills I developed through learning and playing chess directly relate to the path my life has taken.
Melissa Rauh asked: What questions do you ask yourself before you make any general move?
Elliott answered: Hi Melissa. I've worked hard to develop a series of what at Chess4Life we call Healthy Habits – habits that help me play better. One of those habits I developed fairly early on, mostly because I was making too many blunders and losing pieces to simple tactics. The habit was simply the following: Every time my opponent made a move, BEFORE jumping into calculating my response, I would ask myself: What did my opponent's move threaten? What checks and/or captures are possible by my opponent? What checks and/or captures are possible for me right now? I would count up how many I found. Only after looking at all of these would I start considering what move to play. By asking myself these questions, I was able to both eliminate a large percentage of my own blunders as well as find many more opportunities, since so many came from simply seeing the good captures or checks. I now ask myself these questions more subconsciously than consciously. As I approached the master level, I worked through the book Think Like a Grandmaster by Kotov. That book really helped me calculate very systematically through variations. Finally, in order to develop my plan, every turn I like to think through what imbalances in the position are in my favor, which are in my opponent's favor, and reaffirm whether my plan feels good to me or whether changing it is needed. Only after doing these steps and answering these questions do I feel great about deciding on what move to make.
Javier "Marty" Lopez asked: Which has been your most upsetting loss ever, and what if anything did you learn from it? And my second question is who inspired you to become the mentor, teacher and champion that you are, and how did he or she manage to do it?
Losing is simply a mindset because every loss can be the source for invaluable learning.
Elliott answered: The motto we have at Chess4Life is "Win, Draw, Learn!" – "losing" is simply a mindset because every loss can be the source for invaluable learning. If you look for it, you can always find something to learn in every loss – and then, is it really a loss? You've gained something! The loss that comes first to mind was played during a US Open in the late 1990s. I was playing the white pieces and the position was quite equal. So I was searching for any way possible to get a bit of an imbalance that I could hopefully turn into an initiative to at least give me a chance of winning. My opponent traded rooks, capturing mine and checking my king. I could only take back one of two ways – with the king or with the bishop. I knew that I had to recapture with my king, because taking with the bishop would leave a square unprotected, allowing my opponent to fork my king and queen. Instead of recapturing immediately with the one reasonable choice, I went into a deep think about what was going to happen next. After thinking for a long time, I finally took back with the bishop because I wasn't satisfied with the positions that would occur if I took with the king. My opponent looked surprised, then immediately forked my king and queen. I was devastated… and that game cost me the chance to win my section prize. As a teenager, it was very hard – and our family drove thousands of miles to play in this event. The long drive home I kept replaying what had happened. In fact, this memory is featured in a scene in my new book A Pawn's Journey: Transforming Lives One Move at a Time.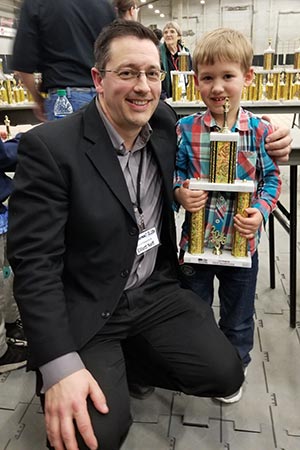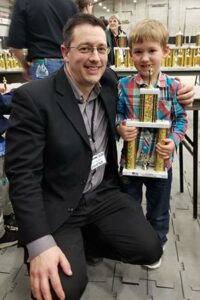 Your second question is somewhat difficult to answer. There was no one individual. Rather, I was inspired by a number of individuals and circumstances along my journey. My dad strongly encouraged a striving for excellence and taught me chess. Playing my first tournament 'hooked' me on chess beyond simply casually enjoying it. I enjoyed winning and wanted to win the tournament, so I started studying. An older gentleman who used to play in the chess leagues in the Netherlands (he even played world champion Max Euwe in a simul once) helped me with tips and with reviewing my games. Randy Kaech, a chess coach and promoter of chess, was an expert-level rated player who graciously lent me books and played a chess match with me to help me improve when I was getting close to the expert level. Corey Russell was the only 'paid' coach I had – and that was just for one week as a gift from my parents. That week of chess with Corey, who at the time was in high school and a chess master, was hugely helpful for my development.
To get back to your core question of what led me to become the mentor/teacher/player that I am – I put in my 10,000 hours of self-study and practice because I wanted to be the best – and indeed did achieve winning the Washington state high school championships. In high school, I just loved helping others improve – so I coached my teammates on the high school team, helped anyone who asked. Eventually I was asked to coach young students, getting paid to do so. A longer story is how in my life I've had this 'burning desire' to make a real difference. After having coached for years part-time, in 2002 I had a 'lightbulb moment' that led to my seeing how chess could be a vehicle to make a real difference. I have a goal of helping one million kids per week learn life skills through chess. Hence the development of Chess4Life and the many tools that we have built to empower others to help kids.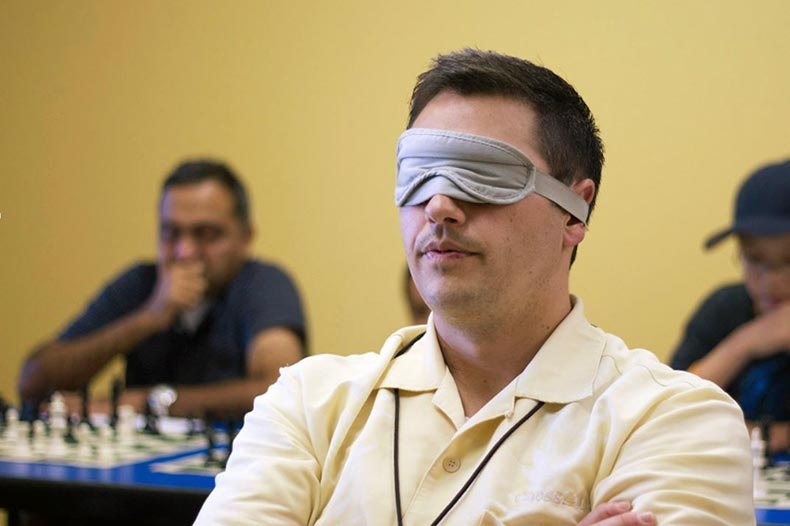 Devanshi Rathi asked: I am Devanshi Rathi, founder of Project Checkmate. I teach chess to the underprivileged and blind children in my community. I have seen the Queen of Katwe in a special screening organised by the Salaam Balak Trust in my city and would like to ask you for tips for improving my students' play. What do you suggest is the best way for one to improve? It is quite difficult to get the funds for their travel to different tournaments and also there aren't many books accessible in their version.
I encourage students below the 1800 rating level to not spend too much time on openings. Instead, they should learn from every game they play.
Elliott answered: Hi Devanshi – a pleasure to hear of your great work to help others! I also taught chess to a blind student a few times. Your question is good and also may have many answers… just like a chess position with many possibilities.? Based on my experience helping students from learning the moves up to the master level, the best way to improve depends on the level and a little bit on the individual student. I ultimately wrote the Chess4Life curriculum because I couldn't find what I really wanted in other curricula. I had developed my own style of teaching chess that I found very effective – and it was based on the premise that if we lay a VERY solid foundation, teaching in a very specific order in order to avoid developing bad habits, that we would prepare students to go as high as their individual interest/ambition/work habits would take them. This methodology resulted in more than a dozen national champions (individuals and teams) as well as many more state level champions. Additionally, I believe it VERY important that learning for young/new students be especially fun and engaging, with no boring lectures! ? That is the foundation of the Chess4Life tools that today we license in many areas, and indeed some of which are utilized in the SOM Chess Academy, home of the Queen of Katwe projects, headed by Robert Katende (you can see more at robertkatende.org about that work). In terms of chess specifics, I have a philosophy of building the endgame skills early so that a student always knows something they can aim to achieve. Build tactics skills, visualization and calculation abilities, then layer on top of that the middlegame planning and imbalances to create the confidence in students that in ANY position they have a way to come up with a reasonable plan. For openings, I encourage students below the 1800 rating level to not spend too much time on openings. Instead, they should learn from every game they play in competition, by reviewing it and figuring out how to improve for the next competition game.
I also did not have many resources – however, living in America, I did figure out ways to earn $$, acquire books and other resources, and study.
From my own study after becoming a self-taught master through reading over 100 chess books, there are perhaps 20-30 key books that could help a person gain the knowledge they need to become expert level (2000+). Getting good competition is important, and I understand the challenge if there isn't much opportunity – perhaps you will need to build it yourself. My philosophy includes studying hard, reviewing EVERY move played very carefully to learn as much as possible from each move. To acquire the books and other resources I would imagine you may be able to find support to purchase even from outside the country if necessary – perhaps someone who can read English could then teach the content of the English-language chess books to the others.
It is indeed a challenge to get the right resources to the underprivileged. I hope that, through Chess4Life and partnering with many others, ultimately the resources will be available to all kids globally.
Akshaya Jain asked: Is your book A Pawn's Journey: Transforming Lives One Move at a Time based on a true story? If so, were you the mentor who guided that girl in real life? What are the reasons for relating chess to real life?
I wrote the book itself to answer the question, 'what do you mean when you say Life Skills Through Chess?'
Elliott answered: Hi Akshaya. Thanks for your question. The book is inspired by my students. Many elements of their stories are woven into April's story. The character April was created in order to represent the various life transformation stories of these other students – so she is a fictitious character. My personal experience as a mentor appears in the story. I don't want to give away the story too much ahead of time though, so I'll leave it there for now. ? The reasons for relating chess to real life? I wrote the book itself to answer the question, "what do you mean when you say Life Skills Through Chess?" I've been asked that question so many times over the years, and every time I found myself answering it by relating a story of one or another student whose life has been transformed through learning the game and receiving the mentoring of a caring coach. Originally I thought I would simply write a book about my students. But then I decided to write the book as a parable, so that everyone, chess player or not, would be likely to both enjoy the story as well as be inspired to develop one or more of the life skills brought out in the story.
Thanks to National Master Elliott Neff for his answers to the five readers. And thanks to the 32 SparkChess readers who left comments and questions for Elliott. Elliott chose Javier M Lopez to win the one-year Chess4Life Online Premium membership.
If you have a topic that you would like me (Alexey Root) to cover in a future article for SparkChess, please leave a comment below.