A basic tenet of historical literacy is being knowledgeable about the past. For chess historical literacy, becoming familiar with the World Chess Champions is essential. Their games and writings influenced both their contemporaries and those that came after them. Therefore, one should be able to name, in order, the World Chess Champions.
Perhaps with chess historical literacy in mind, the Director-General of FIDE, Grandmaster (GM) Emil Sutovsky, asked in Russian on Facebook about World Chess Champions.
Sutovsky's Survey
GM Sutovsky kindly provided this translation to me of his Facebook posting:
A question was to those who ever studied chess.
Unable to name all the Champions from Steinitz to Kasparov.
Would name all but not in exact order.
Would name all in exact order.
Would know exact years of each Champion's reign
At the time I was writing my first book, Children and Chess: A Guide for Educators, I would have chosen answer #4. My book included a chart of the champions, their birth and death years, their title years, and their professions outside of chess. When I first looked at Sutovsky's post on July 19, though without actually testing myself, I chose #2. My choice shows either a lack of retained knowledge or a lack of confidence, as I proofread this infographic for SparkChess less than a year ago. So one would think the champions' names would be inside my head. In any case, I immediately decided to read a book to improve my chess historical literacy.
Literate Friends
More on that book later, but first, how do you think Sutovsky's Facebook friends responded? Apparently, Sutovsky has a lot of friends who have studied chess. His question got over 200 comments. When I counted the responses that he had collected as of July 20, #InternationalChessDay, six people chose answer #1; 20 people chose answer #2, 110 chose answer #3, and 89 chose answer #4. Thus, the majority of his responding friends have a high level of chess historical literacy.
Kings of the Chessboard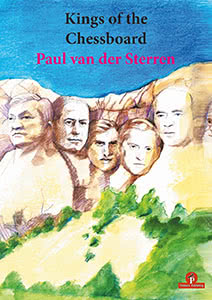 To improve my own chess historical literacy, I turned to a charming book titled Kings of the Chessboard. My literacy was initially challenged by its front cover. I knew that the cover mimicked Mount Rushmore, which features Presidents Washington, Jefferson, Roosevelt, and Lincoln. But looking at the five men portrayed on the cover's pseudo Mount Rushmore, I was only sure of one. It had to be Fischer in the center. If you can name all five men from the cover art, share the names (left to right) in the Comments.
The interior of the book included chapters on top players before the official "world chess champion" title, such as Philidor. And then each of the Classical World Chess Champions, from Steinitz to Carlsen, has his own chapter. Each chapter typically included a biography, theoretical contributions, and chess game(s) and/or position(s). And the chapters are in order, for example Spassky's chapter is before Fischer's chapter. Thus after reading this book, I can confidently answer #3 in Sutovsky's survey.
Additionally, reading Kings of the Chessboard in mid-July inspired me for my July 22-26 week of teaching chess at Coppell Gifted Association's MOSAIC. For my Chess-Advanced course, I was already planning to teach Philidor's position. The book reminded me of other accomplishments of Philidor (such as his musical compositions) that I then decided to also share with my students. I always love to teach the Exchange Variation of the Ruy Lopez opening. Kings of the Chessboard informed me that World Chess Champion Emanuel Lasker used it to win a famous game against José Raúl Capablanca, who would succeed Lasker as champion. I decided that my advanced students should also memorize the names, from Steinitz to Carlsen, of the Classical World Chess Champions. That way, they would finish their week with me with a foundation in chess historical literacy.
Last, I want to comment on how I read Kings of the Chessboard. For the first time ever, I read a chess book via an app. I downloaded the Forward Chess app onto my laptop. My favorite part of the app was being able to increase the text's font size. Although I passed my driver license renewal test this year without wearing corrective lenses, my vision is not what it used to be. These days, I prefer reading large print books over printed books with smaller fonts. But printed chess books usually use smaller fonts.
On the Forward Chess app, I cranked up the font size to 200% and had no strain reading at all. I also liked clicking on the text's chess moves and seeing those played out for me on the app's chessboard. No more getting out the board and pieces, just as this promotional video for Forward Chess promises.
Disclaimer: I have written two books for Mongoose Press, one of the founding publishers of the Forward Chess app. However, I honestly really liked the Forward Chess app!