Saturday, July 20th, is International Chess Day. Share why you love chess or what chess means to you, along with a photo, with the hashtag #InternationalChessDay. International Chess Day 2019 is also the 95th anniversary of FIDE, the World Chess Federation. FIDE has an agreement with Nielsen to research the marketability of chess. If you complete the survey, you can enter into a drawing to win a two-hour online masterclass with former World Champion Vladimir Kramnik. SparkChess is mentioned at 23% into the survey – so vote for us!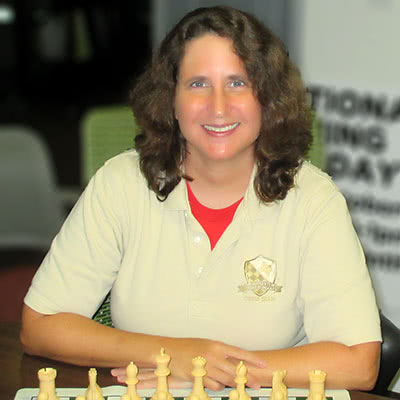 I love chess because it is a lifetime sport. I enjoy searching for moves in chess positions as much now as when I started playing in tournaments at age nine. Although #InternationalChessDay suggests including a photo of your playing chess as a child or of your holding your first chess trophy, I am choosing a photo of my playing chess recently, in my fifties. I'm one of about 160 women ages 50 and older playing US Chess-rated tournament games over this past year. 160 compares to tens of thousands playing US Chess-rated games annually. Perhaps photos of older women playing chess have value, to show that chess can be age-diverse and to encourage senior women to play chess.
My most recent tournament was the Second Annual Queen City of the Prairie Open on July 13, 2019. I played in this year's tournament and in the inaugural version last year to support the Reed family, founders of the Alliance Chess Club. But this year, the Reeds were not there in person, as they were assisting at the 3rd FIDE World Junior Chess Championship for the Disabled. Here is a photo of Wendy Reed, US Chess Women's Program Director Jennifer Shahade, and Louis A. Reed Jr. in the tournament room at that championship, held near Philadelphia.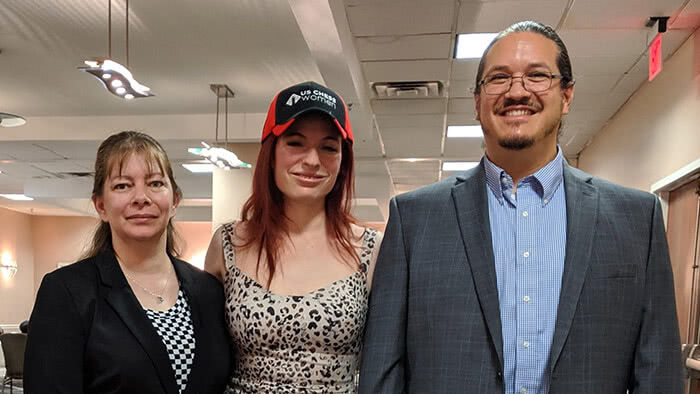 Root's sacrifice
For the 2019 Queen City of the Prairie Open, I took a half-point BYE for round 1, so I wouldn't have to arrive in Fort Worth, Texas by 9:30 a.m. In round 2, I won as Black against Christopher Wood (rated 1279). In round 3, I won a fun game against George Dai. See if you can find my sacrifice on move 19.
In the last round, I had Black against expert Tim Steiner. I played a questionable opening, trying to mix things up. As it turns out, my position after the opening was also questionable and the computer evaluated White as being the equivalent of two pawns ahead by move 15. Steiner won the game and the tournament. I ended up in a five-way tie for third place.
Please comment on #InternationalChessDay in the Comments Area below and on your own social media and other channels.
About the players