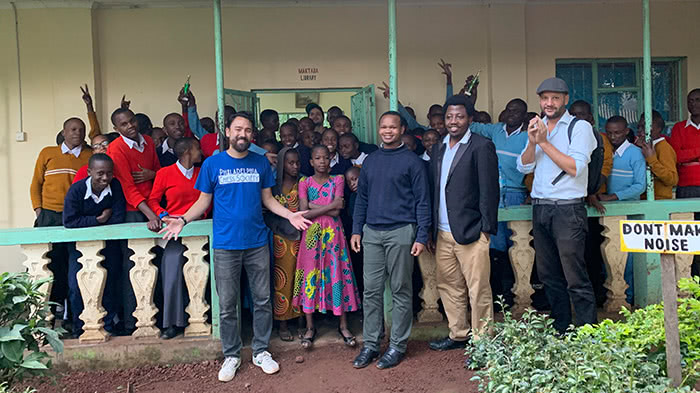 For the second year in a row, National Master Evan Rabin of Premier Chess has taught chess in Africa. In this article, you will learn about his trip to Africa in the summer of 2019 and how to join Rabin on his next trip to Africa, in the summer of 2020, and you'll get a mate-in-four puzzle to solve. Photos in this article are courtesy of Evan Rabin.
In the summer of 2019, Rabin taught chess at the Uru Secondary School, located near Mount Kilimanjaro. Volunteering with Evan was Luis Cuerdo, a chess teacher from San Sebastián, Spain and Jason Bui, Co-Founder of the Philadelphia Chess Society. You can read Rabin's report on the trip at this link.
Since I have met Jason Bui, when he was coaching students at the National Junior High (K-9) Championship in April of 2019 (Grapevine, Texas), I emailed him get his impressions of the trip.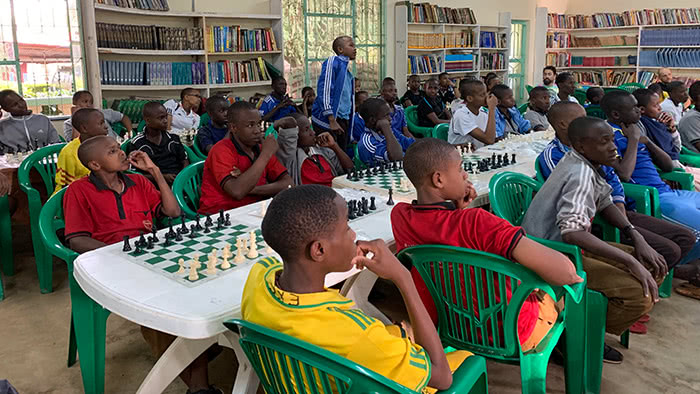 ROOT: Was this your first trip to Africa? What was your favorite part of Tanzania?
BUI: Yes, this was my first time traveling to Africa. To be honest, I loved almost everything about Tanzania. Everyone I met there was friendly. I loved how laid back and relaxed the general attitude was. It was a welcomed change from the fast paced, stressful world of teaching in Philadelphia. And the food. The food was great. Simple, real, and delicious.
ROOT: Can you describe one chess lesson that works equally well in Philadelphia as it does in Moshi, Tanzania?
BUI: Chess was brand new to almost all of the kids we were working with. I find that the appeal of chess and the lessons one can learn from the game are pretty universal. The most important thing when first teaching kids chess is to make it fun and exciting. Once they are hooked you can push them as far as they want to go. The lesson that was the most fun to teach to the whole group was how to checkmate with two rooks. The kids loved it. Especially, because I set it up that I played the lone king and they were in charge of the two rooks. Kids everywhere enjoy winning and "beating" the teacher.
ROOT: Would you recommend this chess volunteering trip and, if so, why?
BUI: Yes, definitely. This trip is an amazing opportunity. It involves many of my favorite things; travel, teaching, kids, and chess. To put it simply, going on the trip was rewarding, and humbling, and eye opening. I returned excited to do even more work with kids here in the US. I am 100% planning on going back to Tanzania in 2020.
For information on how to join Rabin's next African trip, which will be July 11-18, 2020, go to this link.