In the 60 U.S. Women's Chess Championships held between 1937 and 2020, there have been 148 competitors. Of those, 29 have earned the title of U.S. Women's Champion. This article provides some facts and graphics about those participants and champions.
Research
For the March-May 2016 issue of Rank & File, Dr. Phil Chase wrote, "US Women in Chess: A Brief History of US Women's Chess (By the Numbers)." For each U.S. Women's Chess Championship, he listed each participant's name. He calculated participants' win-loss records for multiple championships and, where applicable, for their Olympiad results too.
To find confirm who participated in which championships, I used a couple of sources. The American Woman seven-part series by Chess.com's batgirl (Sarah Beth Cohen) gives an overview of the championships from 1937-1990. I also searched the archives of Chess Review and Chess Life magazines, especially for tournaments before 1992. After 1992, I could find online crosstables for the U.S. Women's Chess Championships.
Data Entry
By checking each participant and championship year, I found some errors in Chase's PDF. For example, he listed Anna Hahn as participating in one year, 2003. She actually participated in nine different championships, winning the title in 2003. Chase also lists: "WAGENER, ANNA 93-95-97-98-99-00-02-05 (33-33) (vW=32.5-20.5)." However, this player does not exist. I'm guessing that somehow "Hahn" became "Wagener" as Chase entered data.
I used either a woman's preferred last name or her last name when she first played in a U.S. Women's Chess Championship. For example, Sonja Graf Stevenson first played in the U.S. Women's Championship with her married last name of Stevenson, so she's listed under "S" rather than "G." Anna Hahn prefers "Hahn" to another last name associated with her (Khan), so she is listed under Hahn.
I was not as ambitious as Chase: I didn't enter players' win-loss records, just their participation. I did not enter Olympiad results. I did note which player(s) won each championship. Even with my more limited scope, I probably made errors too. Let me know if you spot some, so that I can correct them.
The Chief Technical Officer of SparkChess, Armand Niculescu, converted Chase's Rank & File PDF, combined with my corrections, into the graphics "U.S. Women's Chess Championships 1937-2020." available as a printable PDF. The red circles indicate championship wins. The blue dots and lines indicate participation years.
Armand Niculescu also created an interactive version of the chart.
Gresser's Records and a Netflix error
The first U.S. woman to become a USCF Master, Gisela Gresser, went over 2200 on the April 1963 rating list. Chess Life noted, "Page 93 of this issue of CHESS LIFE is of some historical interest: for the first time the name of a woman appears on a list of USCF masters! This honor goes to U.S. Women's Champion Gisela K. Gresser of Ncw York City, whose strong play in the Marshall and Manhattan championships lifted her rating to 2211."
Like other U.S. Women's Championship participants through the years, Gresser played most of her chess games against men. Those championships of the Marshall Chess Club and the Manhattan Chess Club were open to both men and women. Like Gresser, Grandmaster Nona Gaprindashvili was an active chess player in the 1960s. The Netflix series The Queen's Gambit claimed that Gaprindashvili only played against women, an error that infuriated Gaprindashvili.
Gresser still holds the record for the most U.S. Women's Championships won, with nine titles. Grandmaster Irina Krush has eight titles. Gresser also participated in 18 championships in a row. In Gresser's era, championships were not held every year. To complete those 18 consecutive championships took from 1942 to 1979. WGM Tatev Abrahamyan has just played in her 17th championship in 17 years, 2004-2020.
Birthplaces
Gresser is one of nine U.S. Women's Chess Champions born in the U.S. The other 20 champions were born abroad. Armand Niculescu created the graphic "U.S. Women's Chess Champions and Their Birthplaces" to summarize that information. The map shows birthplaces. The pink lines within the chart indicate co-champions for that year. The blue indicates championship wins.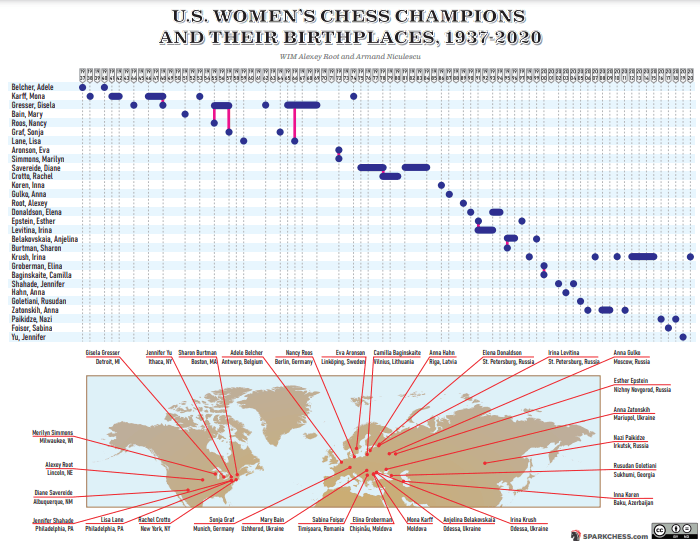 Crosstables by Graeme Cree
Graeme Cree has posted the crosstables for all 60 U.S. Women's Chess Championships. As with my work on Dr. Phil Chase's PDF, Cree had to make corrections. For example, the 1975 crosstable in Chess Life magazine showed, on one line, that Ruth Herstein drew Gresser and, on another line, that Gresser won against Herstein, an impossibility in the single round robin. Cree has corrected such errors. Researchers can now compile win-loss records for each participant, using this article and the crosstables posted by Cree.
You can now preorder Dr. Alexey Root's book on the U.S. Women's Champions, covering from all years from 1937 to 2020, a must-have for chess historians and enthusiasts alike.