The recent World Chess Championship made me think of two iconic phrases. The first phrase is "six degrees of separation," which states that a chain of "friend of a friend" statements can be made to connect any two people in six steps. In this article, I'll share my two-step connections to the challenger, Fabiano Caruana, and to former World Chess Champion Bobby Fischer. The second phrase is "One Day More," which is both a song lyric and a song title from the musical Les Misérables. That song ran through my head, with the revised wording of "One Move More," as I looked at a chess position that Caruana lost to Magnus Carlsen. If only Caruana had one more move, he could have won that position.
My connection to the World Chess Championship challenger, Fabiano Caruana, is through my former University of Texas at Dallas students, Grandmasters Cristian Chirila and Alejandro Ramirez. According to a leaked video of Caruana's preparation, Chirila and Ramirez served as seconds for Caruana. A "second" in chess is like a helper, trainer, or coach, responsible for preparing the chess player. Chirila and Ramirez both took my online courses, back when they were members of the UT Dallas chess team.
Here is a photo from those old days, from left to right, Cristian Chirila, me (seated), Julio Sadorra, Alejandro Ramirez, Salvijus Bercys, Puchen Wang, and Marko Zivanic. The photo was taken March 25, 2011 at Chess Plaza at UT Dallas. So even though I have never met Caruana, I feel connected to him through knowing Chirila and Ramirez. Grandmaster Judit Polgar may have the same idea as "six degrees of separation" with her slogan "Chess Connects Us."
I was happy for Caruana when he drew 12 games with Carlsen during the classical chess portion of the World Chess Championship match. And I was sad for Caruana when he lost the rapid tiebreak games. One position from the first of the three tiebreak games is pictured below, with Carlsen as White to move: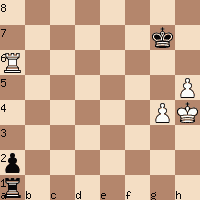 But what if instead of White to move, it was Black's turn to move in the above-pictured position? Then Black would get to play a thematic move of 1….Rh1+. White would have to reply with a king move, since blocking is not possible. So perhaps 2. Kg5. Then Black would promote, 2…a1(Q) 3. Rxa1 Rxa1. Black would then win easily.
It's important to know this pattern of your rook supporting your pawn, then winning by either checking the enemy king or, if the enemy king is on the same rank as your pawn, by threatening a skewer.
While fantasizing about this position, and in my mind giving Caruana that extra move (of getting to play both 49…a2 and 49+…Ra1+ before Carlsen got a move), I thought of the phrase and song "One Move More." Many games of chess are decided by one side being just one move behind, such as when there is a race to promote a pawn and one side promotes just one move before the other side. If only, at those times, we had just "one more move, one move more."
Writing of the "six degrees of separation," I have an even closer "connection" with former World Chess Champion Bobby Fischer. I once defeated Viktors Pupols in a chess game, and years earlier Pupols defeated Fischer.
In the comments, share your connections with world chess champions. I bet you know a chess player who knows a chess player who knows a chess player… who knows a World Chess Champion!
About the players