There was a triple dose of Sherlock Holmes and chess at US Chess in December of 2020. On December 10, 2020, the 2017 U.S. Women's Chess Champion Sabina Foisor appeared in the Girls Club to discuss Sherlock's Method: The Working Tool for the Club Player, written with Grandmaster Elshan Moradiabadi. The December Ladies Knight podcast featured Maria Konnikova, author of Mastermind: How to Think Like Sherlock Holmes. On December 18, The Madwoman's Book Club discussed Konnikova's book, with Konnikova herself appearing in the first 10 minutes, and retrograde analysis.
Sherlock and Konnikova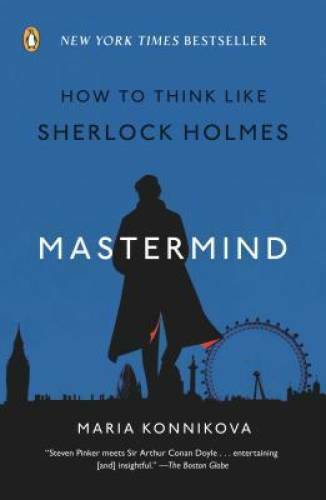 Although chess does not appear in the index for Maria Konnikova's Mastermind: How to Think Like Sherlock Holmes, it is specifically mentioned at least twice. On page 25, Konnikova wrote, "experts in all fields, from master chess players to master detectives, have superior memory in their field of choice. Holmes's knowledge of crime is ever at his fingertips. A chess player often holds hundreds of games, with all of their moves, in his head."
I don't have hundreds of games in my head nowadays, at my rating floor of 2000. And I didn't at my peak US Chess rating of 2260 either. Thus, I didn't connect with Konnikova's first chess-specific example.
When US Chess Women's Program Director Jennifer Shahade interviewed Konnikova for the Ladies Knight podcast, Konnikova said that her chess career lasted about one week in fifth grade. After learning the moves, she was paired with a kindergartner, lost to the Scholar's Mate, and never returned to her school chess club or played chess again.
On page 75, a second chess-specific example, Konnikova mentions being able to tell "the proper chess move from a board," which may be a reference to pattern recognition. But it is not clear from that short phrase.
Even if Konnikova's chess examples did not resonate with me, many ideas in her Mastermind book apply to chess and even to the Covid-19 pandemic, though the book, her first, was published in 2013. On page 146 she wrote, "many people can't work from home and need to go to a specified office. At home, they are not used to working and they find themselves being distracted by the same types of things that they would normally do around the house."
Pre-pandemic, most big-money tournaments for top chess players were over-the-board. During the pandemic, they are playing for equally large prizes online from home. A study summarized on ChessBase found that the top players blundered more often online than in over-the-board games. "This held true for every single player for whom data had been available: Magnus Carlsen, Ding Liren, Anish Giri, Alireza Firouzja, Hikaru Nakamura, Ian Nepomniachtchi and Maxime Vachier-Lagrave."
At the Madwoman's Book Club, Konnikova said that the best advice, given at the end of her book, is to have a quiet mind. To unleash our inner Sherlock Holmes, learn how to pay attention and focus in a chaotic world.
Sherlock and Foisor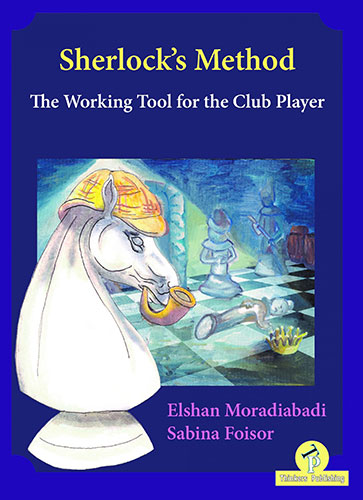 Woman Grandmaster Sabina Foisor and Grandmaster Elshan Moradiabadi wrote Sherlock's Method: The Working Tool for the Club Player, aimed at players rated 1700 to 2300 according to page 12 in the book. When Foisor spoke to the Girls Club, she said the book was appropriate for players rated 1400 to 2200.
Rather than emphasizing memorizing 100s of games, Foisor and Moradiabadi teach advanced players how to better evaluate positions. Their chess-playing Sherlock tells Watson (on page 30) about "a short list of heuristics, intuitive ideas, and scenarios" helpful in chess.
When Foisor presented to the Girls Club on December 10, she asked the girls to choose Kramnik's best move in Anand-Kramnik, Paris 2018. In the poll, about what Black should play after 26. Rf1, 26…Qg7 was the girls' most popular choice (49%), followed by Rxg2 (23%), Qa3 (21%), and Rg7 (8%). Foisor said to take time to evaluate the position before choosing a move. The right move for Black can be found on page 79 of Sherlock's Method: The Working Tool for the Club Player, along with an explanation of why it is the right move. Hint: It's not the move that Kramnik chose!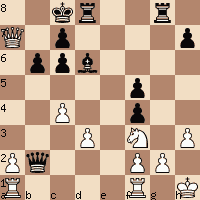 Click to see the solution
The right move for Black is, according to Foisor and Moradiabadi, 26….Qa3!
Madwoman's Book Club
During the December 18 Madwoman's Book Club, US Chess Women's Program Director Jennifer Shahade showed two problems from The Chess Mysteries of Sherlock Holmes: Fifty Tantalizing Problems of Chess Detection by Raymond M. Smullyan.
Here is the first retrograde analysis problem that Shahade presented from Smullyan's book. Black has a king on a8; White has a king on c8, a pawn h2, and a bishop on g1; what were the last moves for White and for Black?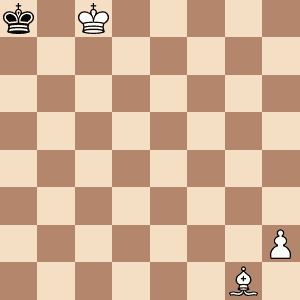 Click to see the solution
The answer is White played N on b6 to a8 (a discovered check) and Black played ….Kxa8
Sherlock and Steinitz?
Not just US Chess mentioned Sherlock Holmes in December. Grandmaster Raymond Keene of England wrote, on December 5, about a connection between Sherlock and the famous Simpson's-in-the-Strand, a restaurant that doubled as a chess club in the 19th century. Keene wrote:
Sir Arthur Conan Doyle can be added to the illustrious list of patrons who frequented Simpson's, and he rewarded Sherlock Holmes with "something nutritious" there after solving the cases of The Illustrious Client and The Dying Detective. It is my belief that Sir Arthur observed the chess champion Wilhelm Steinitz in action at Simpson's, borrowed his shaggy hair and beard, huge domed forehead and short, but muscular stature, to describe the epitome of the scientific adventurer, Professor George Challenger, from his novels, The Lost World and The Poison Belt.
For past and future US Chess events organized by Women's Chess Program Director Jennifer Shahade, go to https://new.uschess.org/category/women.
About the players