Although chess is a game of conflict, with White and Black battling to defeat each other, the world of chess features heart-warming stories of cooperation and success. The critically-acclaimed film Queen of Katwe (2016; rated PG) tells the story of Phiona Mutesi. Phiona grew up in the slums of Katwe in Uganda. After attending the Sports Outreach Mission chess program as a girl, she became the first Woman Candidate Master from Uganda. Phiona now attends Northwest University in Kirkland, Washington State, through a full-tuition scholarship.
Benjamin Mukumbya grew up alongside Phiona attending the Sports Outreach Mission chess program. Having spent six months studying chess with Elliott Neff, the nationally-renowned founder of Chess4Life, Benjamin is now an expert-level player and is also a recipient of a full-tuition scholarship at Northwest University. He aspires to become a neurosurgeon and return to Uganda to give back to his community.
The Sports Outreach Mission and Northwest University changed the lives of Phiona and Benjamin. On August 25th, in Cupertino, California, the public will meet Phiona and Benjamin and, thanks to several chess organizations, get free chess instruction and chess play.
This "Chess Event" is on Saturday, August 25th at Creekside Park (10455 Miller Ave, Cupertino, CA) from 5:30 to 10:30 p.m. This event will feature simultaneous chess exhibitions by Phiona and Benjamin, chess instruction by Lauren Goodkind Chess and chess puzzle solving courtesy of ChessKid.com, and free-style chess games for all ages, with boards and sets provided courtesy of BayAreaChess. And that's not all: a classical music trio will perform, and – as the final touch – a screening of the Queen of Katwe film on a giant outdoor screen.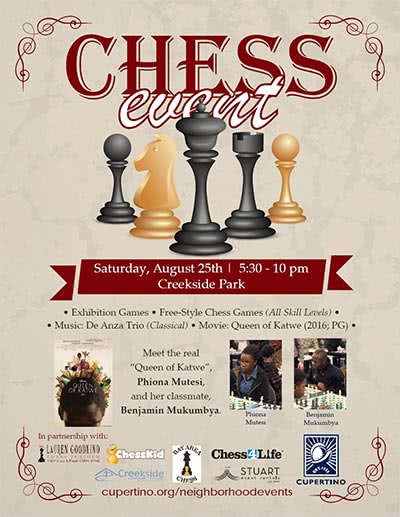 This event is part of a new initiative by the City of Cupertino's Recreation & Community Services department. The program is a series of 34 free, engaging, educational, and fun "Neighborhood Events" at 11 public parks, focused on extending services across Cupertino. The Neighborhood Events program also includes many special themes and culturally-diverse events. Please visit www.cupertino.org/NeighborhoodEvents for more information.
On August 25th, chess will bring people together, from Uganda, California, and Washington State, and from all parts of the City of Cupertino. Moreover, as shown by the stories of Phiona and Benjamin, chess transforms lives. As Elliott Neff emailed me, "We believe that sharing the story of Phiona is inspiring to others and aligns with our desires to reach a million kids per week with life skills through chess." National Chess Day is coming up on October 13; how will you celebrate?
About the players