Gambit Publications published Modern Chess Opening Repertoire for White by International Master James Rizzitano. The book is 176 pages (248 mm by 172 mm). Its copyright date is 2021. It retails for $22.95. It is also available as an e-book ($9.95) and an app-book ($11.99).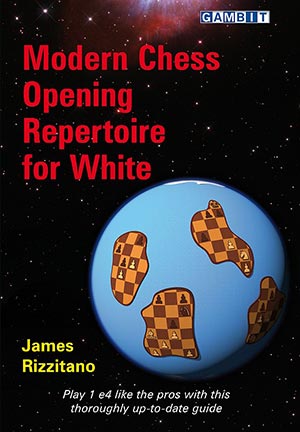 I had watched Grandmaster John Nunn's promotional video, so was looking forward to reading Rizzitano's book. I never got a chance to, because my husband, International Master Doug Root, was always reading it. So, I interviewed Doug about the book.
Interview
Alexey: What are the best features of Rizzitano's Modern Chess Opening Repertoire for White?
Doug: Thorough analysis, plentiful diagrams, and it is a complete White repertoire.
Alexey: Do you know the author?
Doug: Yes. We played in the U.S. Junior Championship together in 1980. We were on the same team for the World Youth Team Championship in Chicago in 1983.
Alexey: Modern Chess Opening Repertoire for White recommends the following openings:
Giuoco Piano (via Bishop's Opening move-order)
Modern Advance Caro-Kann
Tarrasch French
Rossolimo and Moscow Sicilians, and 2…e6 3 c3
Traditional main lines vs Scandinavian and Alekhine
Tricky piece-play options against the Pirc and Modern
How would you characterize these openings?
Doug: These openings begin with 1. e4 and Rizzitano covers all expected replies by Black. Many of his choices are not the most common lines but together they comprise an effective White repertoire.
Sicilian Defense line
Doug explained that, in Rizzitano's book, your moves as White are prescribed based on what Black plays. Sixty-five out of 170 analysis pages are about the Sicilian Defense. Rizzitano's book spells "Defense" as "Defence." Here is an entertaining line from the "Sicilian Defence: Rossolimo Variation" chapter.