One casualty of the pandemic has been in-person chess classes. With schools closed, on-site chess programs are closed too. Schools continue to offer academic subjects online. But most schools did not switch chess classes to online, which meant that chess instructors lost their jobs.
Evan Rabin is the Chief Executive Officer of Premier Chess. Before the pandemic, Premier Chess had 48 instructors in 80 schools. Thus far, only 10-15 of those schools have converted to online chess classes. Only about 10 of Premier Chess's instructors still have work through Premier Chess.
Instructors with Premier Chess are independent contractors. When schools canceled their chess classes, instructors lost their jobs. Rabin explains the current outlook, and what he recommends out-of-work instructors do, in a May 14th interview with Phil Rosenberg.
Rabin is not planning summer chess camps, since in-person gatherings may not be possible by then in New York City. His third "Make a Difference Now-Teach Chess in Africa" trip, scheduled for July, has been postponed. However, Rabin has taught chess at law firms and other businesses. He hopes that teaching chess in the corporate world will expand at the same time that school chess programs seem poised to contract.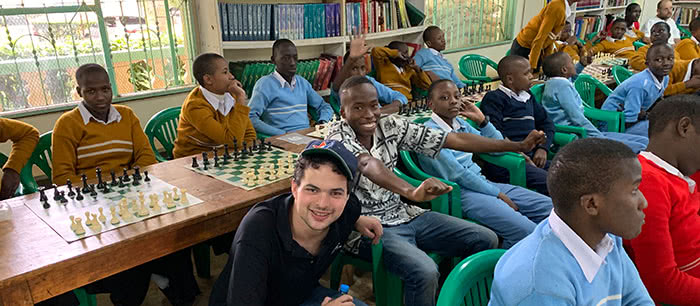 Rabin encourages currently-unemployed school chess instructors to find other work. Each instructor should approach their own family, friends, and social media contacts to find online private students. Instructors should think of themselves as entrepreneurs.
However, some instructors are not temperamentally suited to be entrepreneurs. They don't enjoy finding their own private students. They don't feel comfortable approaching a decision-maker (for example, a school principal) to propose online classes. The sales, networking, and business skills of an entrepreneur are separate skills from teaching.
I prefer teaching to entrepreneurship. I would rather work as a teacher for an established organization than recruit private students or develop my own classes and camps. During past summers, I have worked for Coppell Gifted Association's MOSAIC. With MOSAIC cancelling its June and July camps, I won't be teaching chess in-person this summer. Fortunately, my online courses for The University of Texas at Dallas will continue as usual this summer.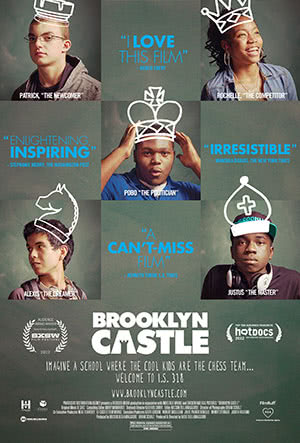 In the fall, New York City schools may face over $221 million in budget cuts. The last time there were New York City school budget cuts, in 2009-2010, chess programs faced tremendous difficulties as memorably shown in the documentary Brooklyn Castle.
Other school districts, in the United States and in other countries, may face financial difficulties during the 2020-2021 school year. One of their first money-saving cuts may be in-person chess classes. With the future of in-person chess teaching in doubt, chess teachers may have to find other ways to make money.
As I wrote in Chess and Twitch: Home Away from Home, making money via Twitch is possible. The process begins with gathering followers, which Rabin has a unique way of doing. If you send a message to the Premier Chess Facebook page that you followed Premier Chess on Twitch because of Facebook, you will get a free, 30-minute online lesson, according to what Rabin stated on this video (go to 1:04:40 and again at 1:08:55 for that offer). Offering an initial lesson for free is one technique Rabin recommends for building up one's chess teaching business.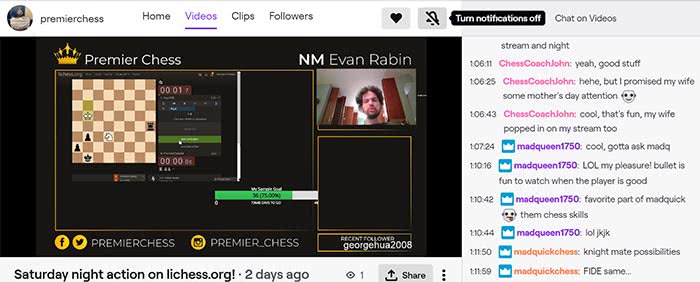 In that same Twitch video, Rabin lost on time in a bullet game, where he had Black in what was, except for time, a winning position. One of Rabin's followers commented that his loss on time was similar to Firouzja's loss as White on time to Carlsen. See this video where an arbiter explains that if checkmate is possible in any way then Black (Carlsen) wins under FIDE blitz rules.
Here are two challenges for you (or for your chess students): Construct a checkmate with the white knight and the other material remaining in the Rabin position. Then construct a checkmate with a bishop and the material present in Firouzja-Carlsen.
Evan Rabin:
Firouzja-Carlsen: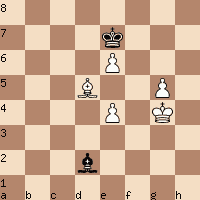 About the players