In April of 2016, Maggie Feng made history by becoming the first girl to win the National Junior High (K-9) Championship (JHS). Maggie Feng is now a FIDE Master (FM) and a Woman International Master (WIM). Perhaps another girl will follow in Maggie's footsteps, by winning the 2019 JHS, to be held in Grapevine, Texas, April 26-28. International Master (IM) John Bartholomew and Woman Grandmaster (WGM) Sabina Foisor will be streaming games with commentary on Twitch.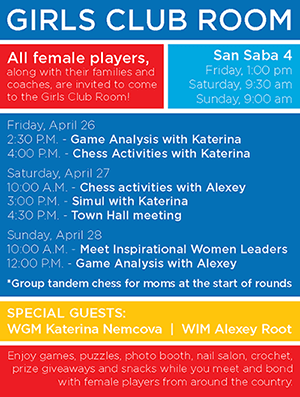 You can apply for money to promote chess to girls and women, by filling out this grant application by May 15. The $100,000 in available grant funds was donated by the Saint Louis Chess Club and is administered by US Chess. If your grant application is successful, you will get between $1500 and $7500 to fund your chess initiative.
One initiative to encourage girls is already in place at all US Chess scholastic nationals, including the JHS. That initiative is the Girls Club Room, where girls, their teammates and coaches, and their families are welcomed. The special guests at the Girls Club Room for JHS will be me (WIM Alexey Root) and WGM Katerina Nemcova. We will give simultaneous exhibitions, teach chess, and provide game analysis.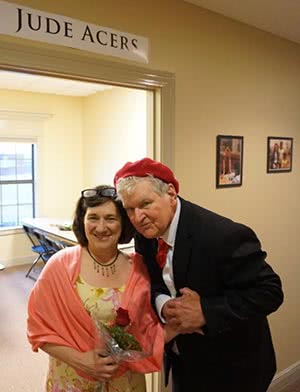 Although Katerina and I are listed on the flyer, there are many more people scheduled for the Girls Club Room at JHS. The monitor for the Girls Club Room is Leila D'Aquin. Earlier this month, Leila opened the Morphy Chess & Cultural Center in New Orleans, Louisiana. One room at the Morphy Chess & Cultural Center is named after Jude Acers, a master famous for taking on all chess challengers while wearing his red beret. Louisiana Chess Coaches Adriana Schneider and National Master René Phillips will be analyzing JHS participants' chess games in the Girls Club Room.
Texans will also be in the Girls Club Room. Texas Women's Championship organizer and Texas Chess Association spokesperson Jim Hollingsworth is hosting "Inspirational Women Leaders." Hollingsworth said, "The Inspirational Women Leaders Presentation features three exceptional women leaders. Their audience consists of serious young chess players who need role models and mentors who uplift and inspire. If a spark can be created in just one child this will all be worth it." One of the leaders is Grapevine City Council member and Mayor Pro Tem Darlene Freed. Another is Clarissa Root, Doctor of Veterinary Medicine.
Why have presenters from outside of the chess world? Because the 1200 participants in the JHS tournament won't all become professional chess players. Among them are future politicians and veterinarians, with the skills learned in chess carrying over to their future careers. And, in the case of Dr. Clarissa Root, she did play chess when she was a child. I know, because I am her mother.