In most cities, rents are high. So a full-time, dedicated building or room for a chess club may be unaffordable. But there are free alternatives. Libraries usually have meeting rooms. Cafés are another choice. This article highlights chess at libraries and at two cafés. From this article, you may get ideas for where a chess club could meet in your city.
Specifically, this article mentions chess at libraries in Texas and at two cafés. The Alliance Chess Club meets at La Madeleine French Bakery & Café and the Lewisville Chess Club meets in the café area of Barnes & Noble Booksellers.
On April 4, 2018, I presented, along with two librarians, at the Texas Library Association annual conference. The presentation shows how chess happens in school libraries, from Neil Krasnoff, and at public libraries, from Kerol Harrod, Denton Public Librarian. I covered chess at the Eugene McDermott Library at The University of Texas at Dallas. Read the presentation for how chess might be implemented at school libraries, public libraries, and university libraries in your city.
The advantages of chess at libraries include clean, quiet spaces to play; accessing chess books and magazines in the library's collection; and attracting a variety of chess players, including some who discover chess while visiting the library for other reasons. Libraries may prohibit charging entry fees, if they have a policy that all library programs are free. That policy would make rated tournaments less likely to happen, with no money to pay for rating fees or for prizes (either cash prizes or non-monetary awards such as trophies).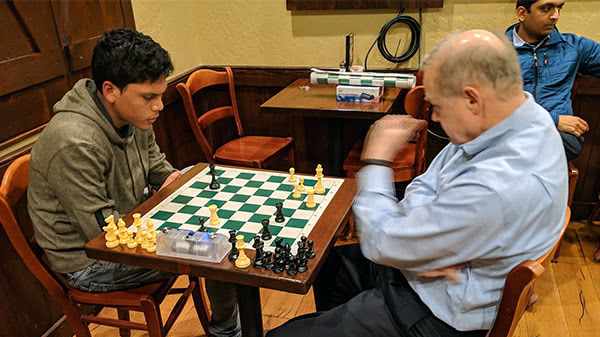 The Alliance Chess Club (President and Tournament Director Louis A. Reed Jr.) meets every Tuesday, with the third Tuesday of the month being a quick-chess, rated, three-round tournament. Casual chess is played in the café itself, but the tournament is in the café's private, reserved room, with a door that blocks off noise. The tournament's time control is game in 10 minutes with a five-second increment, or roughly 15 minutes per side. Reed charges $3 per player, with the higher-rated players being grouped into quads. If there are more than four lower-rated or unrated players, those are paired in a Swiss-system tournament. Each quad is played as a round robin. The winners of the quads and the small Swiss each get a $10 La Madeleine gift card.
Gift cards are a clever idea for the winners' prizes, as cafés want patrons to order food. Many of the 14 participants on May 21 had dinner at La Madeleine before they played their 7 p.m first round, as did my son William Root and I. Then I lost my first round to William, the first time he has defeated me in a chess game. I won my other two games while William won his round 2 but lost his round 3. Thus William and I tied for first in the top quad, each with two wins out of three games. We spent the $10 gift card on the famous La Madeleine tomato basil soup.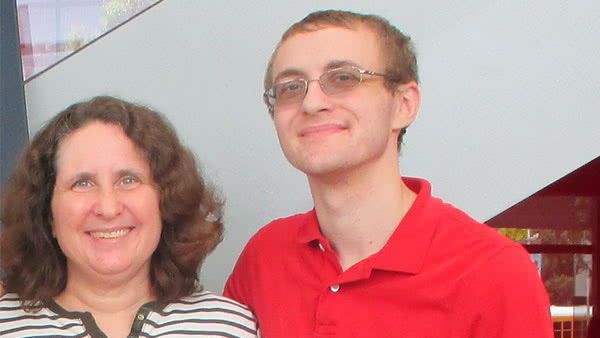 FIDE Master Keith Hayward used to run a weekly chess club at Borders, a bookstore. When that Borders store closed in 2011, Hayward moved the club to Barnes & Noble Booksellers, where it is mentioned in that bookstore's weekly calendar. Eight chess players usually occupy four tables in the café area. Players can come-and-go from 7 p.m. until the store closes at 9 p.m. each Thursday night. Hayward does not run tournaments at his club. Hayward said, "I don't want to compete with the Dallas Chess Club." So participants usually play casual games, either with or without a chess clock.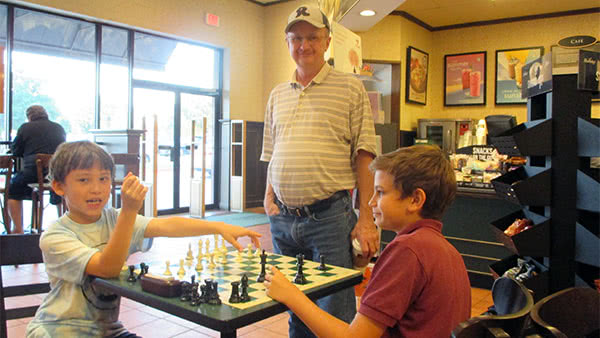 Time for a quiz
The following position was from the end of Root, Alexey (2000) – Martinez, John Paul (1700). Martinez told me his strength was around 1700, though I could not find a rating for him when I checked later on at uschess.org. The game was played at Lewisville Chess Club on May 23, 2019. Pretend you are playing Black. You have three ways to get out of check. Two ways are bad, and one way is good. What move do you choose?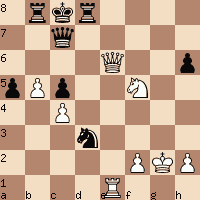 This was a casual chess game, played without a chess clock or notation. So I am not sure we are at move 30, but we are likely around there. Black, my opponent, played the mistake 30…Kb7, to which I replied 31.Qa6# 1-0.
The ONLY good move to get out of check was 30…Qd7 after which I might try 31.Ne7+ (The other choices lead to queen trades where I am down material: 31.Qa6+ Qb7+ 32.Qxb7+; 31.Kf1 Kc7 32.Re3 Qxe6 33.Rxe6) 31…Kc7 and Black is winning. The third choice to get out of check leads to White checkmating Black: 30…Rd7 31.Ne7+ Kd8 (31…Kb7 32.Qa6#) 32.Qg8#
This article mentioned two ideas (libraries and cafés) for where to host a chess club for free. There are other ideas, such as community rooms at shopping malls, recreation centers, restaurants, and conference rooms at banks or other businesses. Your club may even meet outdoors, see this Facebook group. Please share your chess club's location and that location's advantages/disadvantages in the comments.