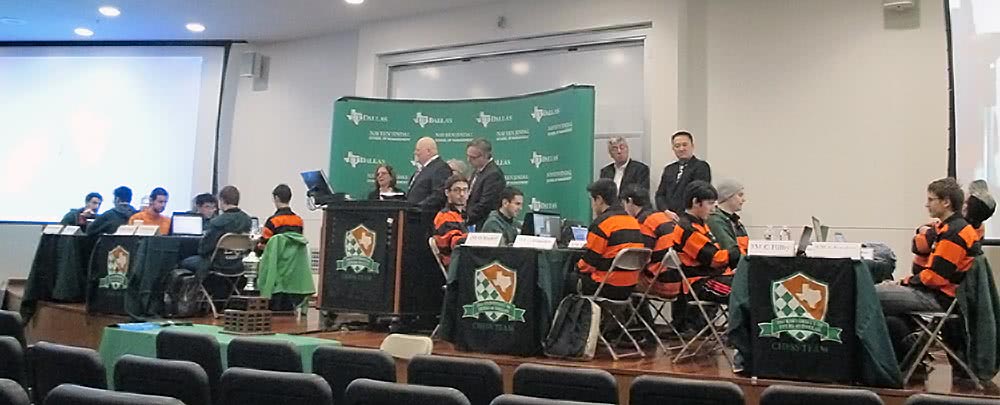 November 9th was the first game of the 2018 World Chess Championship, a 115-move draw. At the same time that Fabiano Caruana and Magnus Carlsen played that marathon-length game, 16 students from The University of Texas at Dallas (UT Dallas) took on their counterparts from the University of Belgrade. The Svetozar Gligorić Transatlantic Cup is played via the Internet Chess Club and the games are available here.
The Svetozar Gligorić Transatlantic Cup is an annual fall tradition. This year, the 13th in the series, UT Dallas won 12.5 to 3.5. Wins count as one point, draws as .5 points each. In this year's match, UT Dallas lost only one game, drew five games, and won 10 games. A big improvement for UT Dallas from last year, which was an 8-8 tie!
UT Dallas Chess Program Director Jim Stallings noted that the match was the United States versus Europe, just like Fabiano Caruana (U.S.) is facing off against a European, Norwegian Magnus Carlsen. Could the stunning victory of the U.S. university in the Svetozar Gligorić Transatlantic Cup be a good omen for Caruana in his match?
In this article, I will take a close look at a game that UT Dallas player International Master Emil Stefanov drew as White, playing on Board 12 of the 16-board match. However, due to a blunder, he might have lost to Branislav Kiproski. White's FIDE [World Chess Federation] rating is 2389 and Black's FIDE rating is 2287. What move would you play for move 43 for White?
As I annotated in the game, White blundered on move 43. He gave up a piece for a pawn. But in a great show of resilience, White managed to still draw the game.
To learn more about the students who played in this 13th annual match, go to the Web site for the UT Dallas Chess Program and click on "Our Top News" and the The 13th Annual Svetozar Gligoric Transatlantic Cup – November 9, 2018 link. The linked PDF gives the names, chess titles, ratings, and university majors of the student chess players for UT Dallas and for the University of Belgrade.