The International Chess Federation (FIDE) named Anish Giri its "Person of the Day" for September 13, 2021. Giri had just won the Tolstoy Cup, a nine-round, all-play-all rapid chess event with a time control of 15 minutes plus a 10-second increment per move. Games won by Leo Tolstoy (in 1906) and by Anish Giri (in 2021) are explored.
In-Between Moves
As I wrote in a previous article, "in chess one may delay a capture by playing an in-between move, also known as an intermezzo or a zwischenzug." In the games featured in this present article, both Leo Tolstoy and Anish Giri used in-between moves to win their chess games.
Leo Tolstoy
Leo Tolstoy (September 9, 1828–November 20, 1910) was a Russian writer. His most famous books are War and Peace and Anna Karenina. He was born at his family's estate, Yasnaya Polyana. That estate is now a museum.
Tolstoy played chess recreationally. Chess historian Edward Winter wrote, "There seems no reason to dispute the authenticity of the three [games] against Maude," the last name of Tolstoy's biographer and translator Aylmer Maude. Can you find Tolstoy's in-between move in the diagrammed position? Even though his knight on e5 is attacked, he does not move it.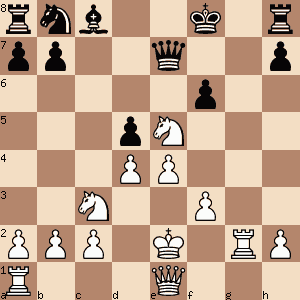 18.Nxd5! Wins a pawn and forces Black's queen off the seventh rank, making the g7-square vulnerable. Therefore, White's next move threatens that square. 18…Qd6 19.Qg3 White's knights cannot be captured, because White is threatening Qg7#. Black resigns, 1–0.
Both the Tolstoy game and the Giri game were played at Yasnaya Polyana, Tolstoy's estate.
Anish Giri
Grandmaster Anish Giri was born June 28, 1994. He is the highest-rated player in the Netherlands. The International Chess Federation (FIDE) also ranks Giri as the seventh-best player in the world. FIDE named Giri its "Person of the Day" for winning the inaugural Tolstoy Cup, which began on Tolstoy's September 9 birthday and ended on September 12, 2021.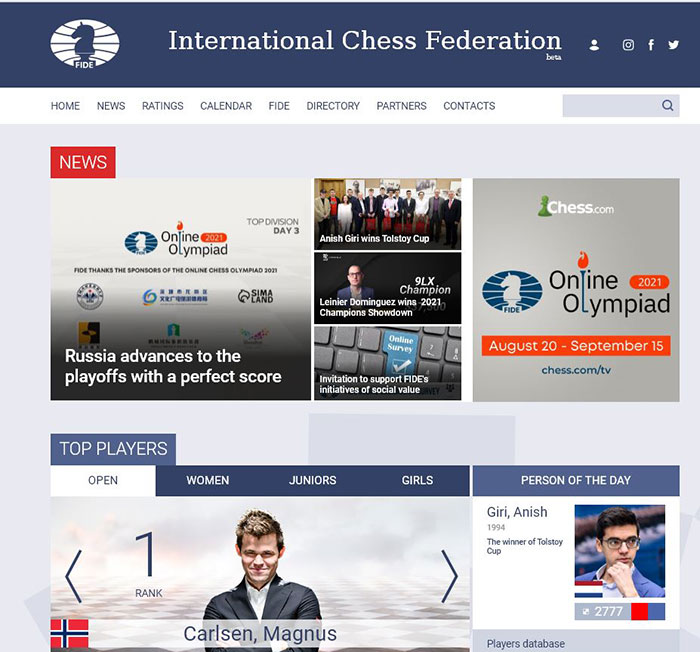 The Leo Tolstoy Museum and Estate Yasnaya Polyana was the site of the Tolstoy Cup. Grandmaster Anish Giri was its highest-rated participant, with a FIDE rating of 2777. He scored 8 out of 9, for a performance rating of 3041. Winning the eighth round, as White against Grandmaster David Paravyan, secured first place for Giri.
In the diagrammed position, Paravyan's king is attacking Giri's rook. Rather than moving his rook, Giri defends it. Can you see how?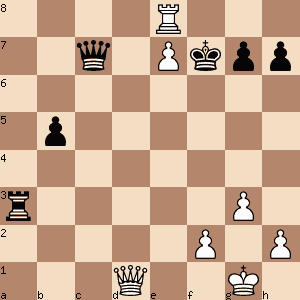 If you found 40. Qh5+!, good job. But your work is not over yet. Black replies 40…g6, which attacks your queen and your rook is still attacked. You could play 41. Qxb5, which saves your queen and defends your rook at the same time. Giri plays an in-between move, instead of saving his queen immediately. Can you find Giri's 41st move?
41.Rf8+ Kg7 41…Kxe7 42.Qxh7+ Skewering Black's king to Black's queen. 42…Kxf8 43.Qxc7 and White is winning. 42.Rg8+ Kf6 42…Kxg8 43.e8Q+ and White is winning. 43.e8N+ There are other ways to win but under-promoting to a knight is an attractive finish to the game.
FIDE commentator and Grandmaster Evgenij Miroshnichenko captures the excitement of the last few moves of Giri–Paravyan, where the latter was playing on the increment since he had only seconds left on his clock.
About the players