I played in an over-the-board chess tournament on July 18-19. Having played over 200 games online during the pandemic, I wondered what differences I would notice between over-the-board and online chess.
On July 18-19, I played in the third annual Queen City of the Prairie Open and Fort Worth Championship. I reported on the tournament for Chess Life Online. At the start of each round, tournament director and organizer Louis A. Reed Jr. directed players to start their clocks and to not shake hands. I nodded or bowed to each of my opponents. I saw a few pairs of opponents do elbow bumps.
Find the Draw
In round 2, I had White against 10-year-old Andy Woodward, who is higher-rated than me. Round 2 happened midday during a three-round Saturday. I really wanted a quick draw to have lots of time before round 3 began. To be honest, I hoped to leave the Hilton Garden Inn's ballroom, where the chess games were played, and swim in the hotel's pool.
Woodward turned down two draw offers earlier in the game. But in the diagrammed position, White to move, I had a chance to force a draw. Unfortunately, I mechanically moved my king toward Black's b5-pawn and lost.
White has to keep her king near the h-pawn, to win it. At the right moment, White will sacrifice her bishop for the b5-pawn, which will distract Black's bishop to b5. Then White will play Kh3 and Kxh4. With both of Black's pawns eliminated, it is a draw by definition.
It was a sorrow to lose this game, but a joy to realize that there is a logical and beautiful solution for how to draw. Right after the game, I asked my opponent if I had a chance to draw and he told me exactly how to draw.
Online chess Post-mortems
Other than with Woodward, since our second-round game ended somewhat close to round 3's start time, I had extensive post-mortems with my other four opponents. I enjoyed their thoughts on our games and learning about their lives.
Here is a link to the names and US Chess ratings of my opponents. My first opponent last played US Chess rated games in 1992 and is choosing these pandemic times to return to over-the-board tournament chess. He plans to play again in the National Open. My third-round opponent is a high school teacher. He was not sure when his charter school will resume in-person instruction. My fourth-round opponent is a high school student. He was so used to online chess, where making your move starts your opponent's clock, that he often forgot to punch his clock. I reminded him to punch his clock several times, as I didn't want to win on time due to his inexperience. My fifth-round opponent, Tim Steiner, works for The University of Texas at Dallas Chess Program. Because I also work for UT Dallas, we had much to talk about after our draw.
Time Controls
The time control for third annual Queen City of the Prairie Open and Fort Worth Championship was Game in 60 minutes plus a 30 second increment, which is a Regular or Standard time control. Most players had more than an hour between rounds.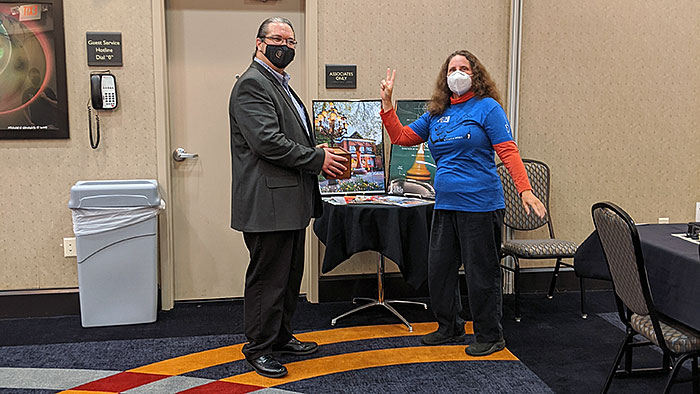 My online games usually have Blitz time controls. Often, a new game begins immediately after the previous game ends, allowing no time for online post-mortems.
Although Blitz decreases the chances for post-mortems during in-person games too, there is often friendly banter before, during, and after over-the-board speed chess. When I play online, I miss that banter. Moreover, I usually have no idea who my online opponent is in real-life.
Safety
Nevertheless, online chess is safer during a pandemic. As I reported on Chess Life Online, all players had to wear masks or face coverings. But a few Queen City of the Prairie Open players wore their masks or face coverings incorrectly.
Two weeks after the tournament, on August 1, 2020 (the day I am submitting this article to SparkChess), I seem to be completely healthy. And Louis A. Reed Jr. has not been contacted about any of the tournament's participants falling ill.
Games
Reed provided a database of games played in the Open section of the third annual Queen City of the Prairie Open and Fort Worth Championship.
Click on the three dots at the top left to display a list of games or click here to download the database.