Grandmaster Anish Giri is ranked 10th in the world in chess. Giri also tells jokes and writes lyrics. Understanding his games and other creations usually requires an insider's knowledge of chess.
Held at the same time as the Clutch Chess International (prize fund $265,000), the Mr Dodgy Invitational had a first prize of a signed picture of a man on a horse. Grandmaster Anish Giri won the latter event. In his victory interview, Giri said that he hopes to sell his prize to Grandmaster Peter Svidler.
My favorite Giri joke is from the 2020 Candidates Tournament. Giri tweeted about Grandmaster Fabiano Caruana offering a handshake.
Saw @FabianoCaruana in the hotel lobby. He offered me a handshake. I understand we are competitors here, but one still expects some sportsmanship and common courtesy. #Candidates2020

— Anish Giri (@anishgiri) March 14, 2020
Everyone avoids handshakes now. Yet, pre-pandemic, chessplayers' handshakes happened by rote. Giri's joke plays on the coronavirus reality versus our sport's ingrained courteous traditions.
Other Giri jokes require detailed analysis, such as Grandmaster Gregory Serper's explanation of the Twitter trash talk between Giri and World Champion Magnus Carlsen. Also challenging was Giri's appearance, with Indian comedian Samay Raina (as commentator), in four-player chess. The video of the first four-player game starts about 13 minutes in, after technical difficulties are resolved. There were many suggested moves and strategies, but I found four-player chess confusing. As did Giri, apparently, since he lost that game to Woman FIDE Master Alexandra Botez, Antonio Radic (known as Agadmator), and Grandmaster Vidit Gujrathi.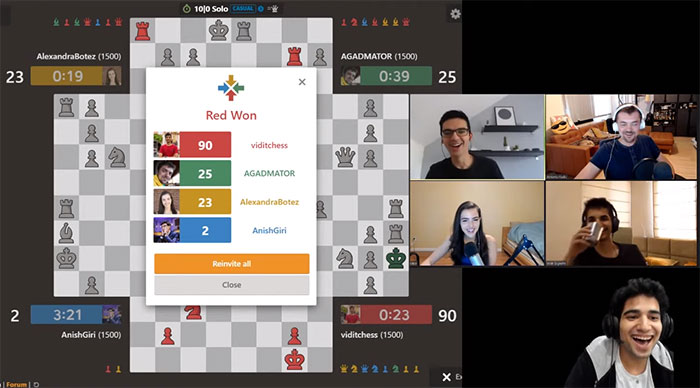 With his frequent tweets and novel chess activities, it's clear that Giri is "growing the game." That last phrase has become popular, especially after Grandmaster Hikaru Nakamura reached out to video gamers who are chess novices. While there has been some debate about the $50,000 prize fund for those chess beginners awarded by Pogchamps, Nakamura's outreach efforts landed him, for May 17, 2020, as the top English language streamer on Twitch.
Insider jokes about "growing the game" and Pogchamps feature in Giri's adaptation of Lost On You by LP. Giri's lyrics are sung by Juga in her new video Lost To You. Although I'm an avid follower of chess, I'm sure I missed some of Giri's references. For example, I learned from the video's YouTube comments that one of Nakamura's nicknames for Carlsen is Sauron.
My own adapted lyrics may be more accessible, since they were for a National Chess Day tournament aimed at girls (including some chess beginners). Therefore, "Do You Want to Build a Snowman?" from the film Frozen became "Do You Want to Build a Chessman?"
Here is a time trouble win by Giri over Grandmaster Anton Korobov in the semi-finals of the Mr Dodgy Invitational. White has 23 seconds left, Black has 21 seconds left, and the time control is 5 minutes per side with no increment. Giri plays 45. e6, threatening 46. Qg7#. Black has one correct response, blocking the mate and winning the game! Can you find it?
Answer: 45…Bf6 with the threat, if the queen moves, of 46…Ra1#. And if the queen doesn't move, Black wins material. Korobov plays 45…Qa7 and Giri replies 46. Qg7#. A dodgy win for Giri!
About the players