The history of chess starts 1500 years ago, in the 6th century. It was invented somewhere in northern India, and from there it spread throughout the Persian empire. When the Arabs conquered the Persian territories, the game was adopted by the Muslim world as well.
The presence of the powerful Caliphate of Cordoba in the south of the Iberian peninsula started in 711 and continued for around 800 years. This was the door for chess' arrival in Europe.
Around 1100 AD chess was well known in royal and noble houses from Spain, France, and Italy. With an enormous variety of artistic and elaborated chess sets, it had to be simplified and unified in order to spread to all social classes.
The turning point was in 1849, when "Staunton Chess Set" appears. Howard Staunton was one of the greatest chess players of his time, a tournament and chess clubs organizer in London. He is the one who, with his activity, notoriety, and boldness, has promoted the new design for the chess sets.
But ironically, this revolutionary design was not created by Staunton himself. It was an architect, Nathan Cook, who had distilled, refined and unified the various styles in one based on Victorian Neoclassical architecture. Influenced by renewed interest in the Greek architecture after the discovery of Pompeii, Cook retained his name in marketing the new pieces but they were promoted in Illustrated London News as "Staunton Chessmen". Simple, inexpensive and easily understandable, with clear determination of piece values based on their proportions, the new chess sets were an instant success.
And so the Staunton set conquered the world, loved by players of all ages, men and women alike. Since 1924, the Staunton Chessmen has been adopted by chess organizations worldwide, becoming the official competition set.
There are hundreds of Staunton variations and original designs nowadays, so you can choose a chess set to fit your own personality and taste or to make it the ideal gift for your friends or family.
We've made a selection of 5 webshops to help you make the right decision when you are choosing a chess set.
chesswarehouse.com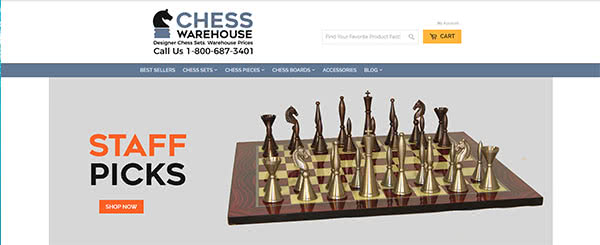 Here you can find chess sets, chess pieces and chess boards made of various materials. Apart from wood and metal, the site offers alabaster chess sets. These are carved from natural Italian stone and dyed to their unique color. Eye-catching and head-turning, the alabaster chess set can be a valuable gift for a friend. Don't miss the accessories section where you can find traveler chess sets or Chess Clocks.
If you feel lucky, you have the chance to obtain a fat discount by spinning the website lucky wheel.
This online shop offers fine chess products from around the world. On the site, you'll discover a vast selection of chess sets made of wood, metal, plastic, marble, onyx, and silicone, from the usual table dimensions to those suitable for your garden. The site can be a supplier for clubs and schools as well. Chess clocks, chess DVDs, and chess books are also available in the shop. You may like to check their "Collectors Club" or use the fast, simple, and fun Gift Certificates.
ChessHouse online store is oriented mostly toward families, their primary aim from the beginning. It has fine chess sets designed by artists, heirloom chess sets, and giant chess sets. You can also find several types of electronic chess boards, game recorders, awards, and gifts, in its inventory.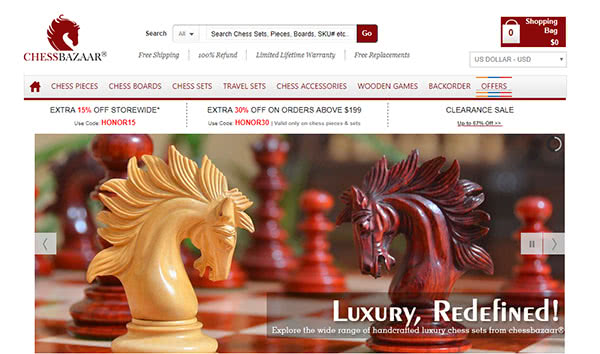 A marketplace from India with chess pieces and chess sets of an astonishing diversity, it has items in all price ranges, from economy to luxury. Not only that, you'll also find reproduced Antique chess sets, Soviet chess sets, and custom made chess sets. If in the 18th and 19th centuries, ivory was sought to be carved into chess pieces, now manufacturers are using camel bones to achieve the same splendors based on the old designs.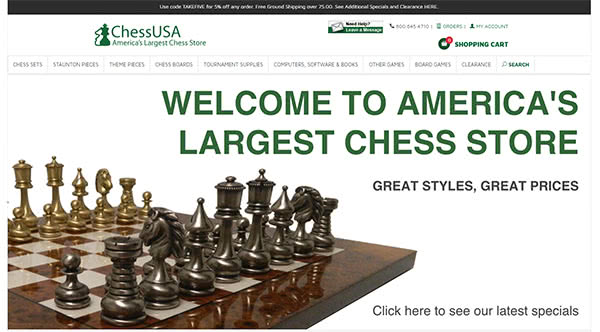 Probably one of the biggest online chess shops in the USA, it stocks a huge diversity of chess related items, including theme-based chess sets as well as unique chess sets like drinking chess sets or cats and dogs chess sets.